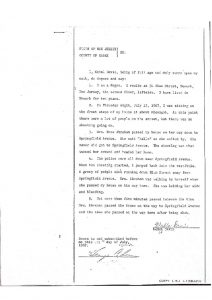 Around 12:30 A.M., July 14th, Moise and Rose Abraham were awakened by the sound of gunshots outside their home at 42 Blum Street. The two had married in 1944 and raised their six children in their single-family home, with all but the eldest still living there. After hearing the gunfire, Mr. Abraham walked downstairs to the kitchen for a glass of water, while Mrs. Abraham checked on her children.
"At about 12:30 A.M. Mrs. Abraham came outside," according to her neighbor, Ella Blount. "She walked over to our front steps and asked what was going on on the street. I told here there was a riot. She asked about Moise, Jr., her sixteen year old son, whom she had just discovered was not in the house. I told her we hadn't seen him and she asked me to walk down to the corner with her."
Mrs. Blount and Mrs. Abraham walked down Blum Street toward Springfield Avenue, where crowds were gathered and looting had taken place earlier in the night. According to Mrs. Blount, "I saw one or two Newark policemen across Springfield Avenue, looking down Blum Street. They had rifles and were standing by a liquor store on the other side of Springfield Avenue."
"There were a lot of people walking around on Blum Street," Mrs. Blount continued. "Suddenly, I heard a shot. People started running down Blum Street, away from Springfield Avenue. We did, too. I didn't stop until I got to my house, and saw down on the stoop, out of breath."
When Mrs. Blount arrived back at her stoop, however, Mrs. Abraham was no longer with her.
According to another neighbor, Mrs. Shirley Banks, 'I stood right on this porch and saw everything. She was standing right down the block in front of that gray house talking with a woman on the porch when the police came around the corner chasing people. You could hear the bullets…ping…ping…hitting off the cars. Mrs. Abraham started to run across the street. She got as far as the middle when she fell to her knees.'
After falling to her knees, Mrs. Abraham managed to make it to the other side of the street, where her son, Moise, Jr., helped her back to their home. "By that point I heard more shooting and shouting," Moise, Sr., said. "By the time I came to the door, Moise, Jr. was helping his mama in the door. He said, 'Mama just got shot.' My wife fell down in the doorway."
A neighbor drove Moise, Sr. and his wife to the hospital, where she waited six hours to be operated on. A bullet had struck Mrs. Abraham in the right hip and then continued into her stomach. She died twenty-four hours later.
Rose Abraham, mother of six, was dead at the age of 45 after being shot while Newark police were "attempting to clear this area of looters." Mrs. Abraham was the first of 23 people to die at the hands of police and National Guardsmen over the next four days.
The Essex County Grand Jury found "no cause for indictment" of the officers involved.
References:
Ronald Porambo, No Cause for Indictment: An Autopsy of Newark
Witness Testimony of Moise Abraham and Ella Blount before the Essex County Grand Jury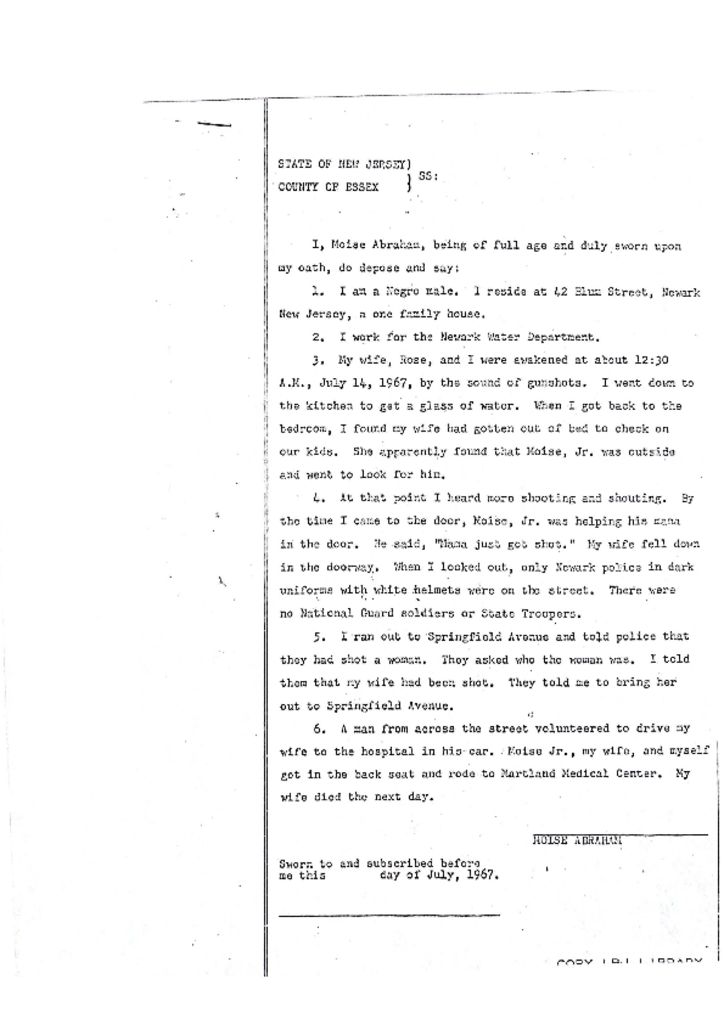 Deposition of Moise Abraham, in which he describes his wife, Rose Abraham, collapsing in the doorway of their Blum Street apartment after being shot by Newark policemen. — Credit: Newark Public Library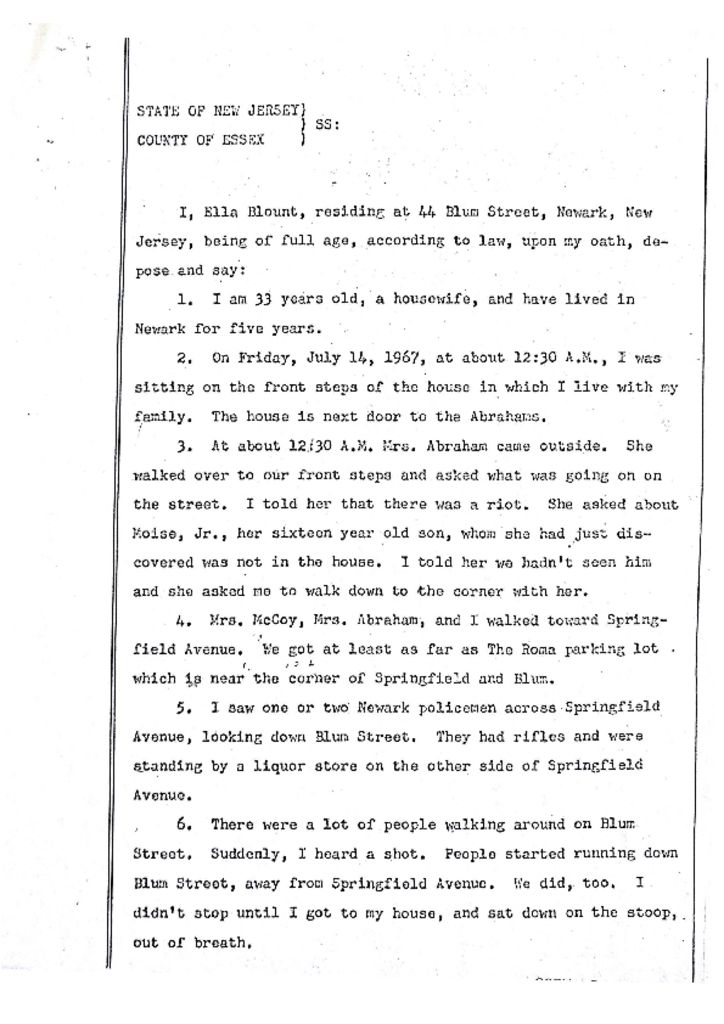 Deposition of Ella Blount, in which she describes the shooting of her neighbor, Rose Abraham, by Newark policemen. — Credit: Newark Public Library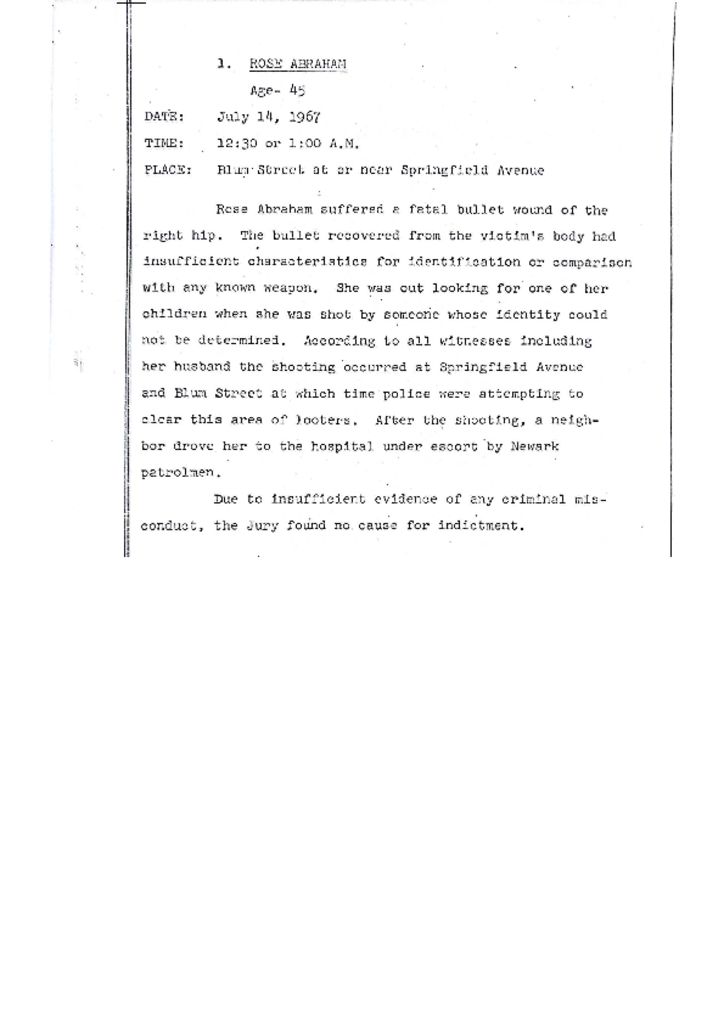 Grand Jury report describing the fatal shooting of 45-year-old Rose Abraham on July 14, 1967, who was shot while police were "attempting to clear this area of looters." The Grand Jury found "no cause for indictment." — Credit: Newark Public Library