The Irish started arriving in Newark in the 1790s, but the largest wave of arrivals began in the 1820s. The Puritan founders sought to keep intruders out of town causing antagonism to flare into open conflict against the Irish Catholics. But others kept coming, and the peak was reached after 1846 and the Irish Potato Famine in Ireland. Irish people met with prejudice, and because of poverty lived in the worst parts of the city. "The Irish and other low classes" were particularly hard hit by cholera in the city in 1832. The industries, docks and canals brought large numbers of Irish immigrants, who although they were needed were not wanted, and like African Americans, were labeled with their nationality after their name.
The Irish, like all other newcomers to the city, were attracted by Newark's prospering industries.  They did heavy construction work, building canals, bridges and railroads. Many worked as coach makers, hatters, in stone quarries, and manufacturing, in time, owning many of the businesses. Initially, many settled in the Ironbound district, in the area bordering the Meadowlands. By 1835, the Irish comprised about one-third of the city's 18,000 people.
The Irish were quick to organize fraternal and political organizations. They founded the first Roman Catholic Church in Newark, St. John's on Mulberry Street. As Newark prospered, no longer did the Irish immigrant come empty handed: a job was usually assured by friends before the immigrant left Ireland, where he can learn a trade and earn more money than he could as a laborer. Italians and other Eastern European groups began to take the "worse" jobs.
As they became more prosperous and influential, the Irish lived in several districts of the city, expanding to the West and North Wards, particularly in the later 20th Century. As the dominant political group for many years, the Irish captured some of the highest political and business positions in the city (and the county of Essex). Leo Carlin became Mayor of Newark from 1953 to 1962. The Irish in power led to the appointment of judges, prosecutors, educators, health professionals and administrators. They dominated the police and fire departments. Through the years the Irish working class, middle class and political elite determined who would be Mayor in Newark…until their numbers dwindled with their gradual exodus from the city.
References:
George Callan,"Contributions of the Irish-Americans to Newark," 1961.
Charles F. Cummings, Knowing Newark: Selected Star-Ledger Columns by Charles F. Cummings.
 John Cunningham, Newark
Students of Essex Catholic High School, "The People of Newark," Newark 300: A Students' Topical Review of Newark's 300 Years, February 1966.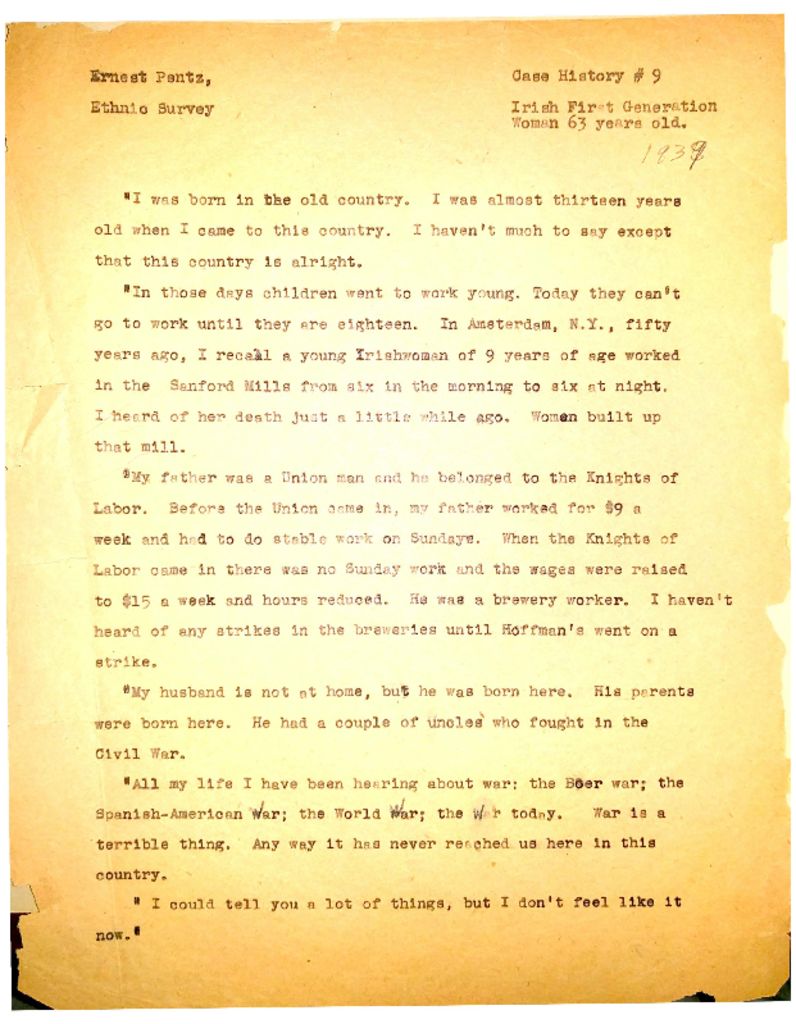 Transcript of a 1939 interview of a first generation Irish immigrant to Newark, conducted by staff of the Works Progress Administration (WPA). The WPA employed millions during the Great Depression through projects such as ethnological surveys of major cities like Newark. — Credit: New Jersey State Archives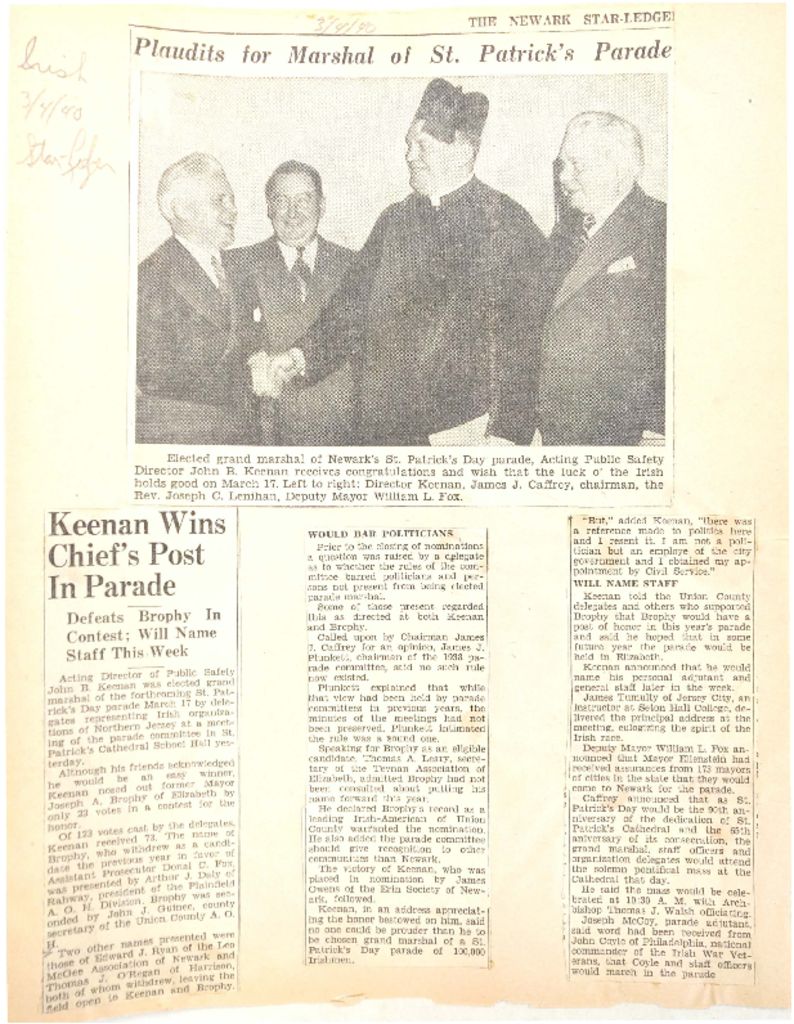 A 1940 article from the Star-Ledger, covering the election of John B. Keenan to the post of grand marshal of Newark's St. Patrick's Day Parade. Parades have long been a staple of expression of ethnic group identity and pride. — Credit: New Jersey State Archives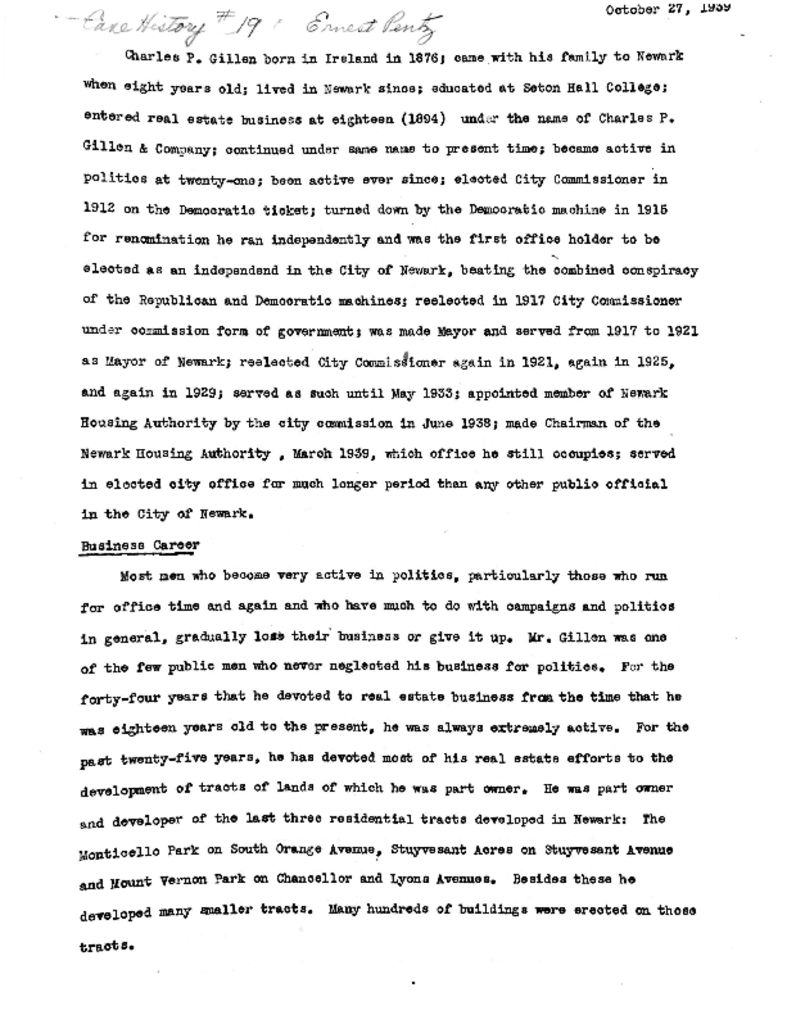 Profile written in 1939 of Irish immigrant Charles P. Gillen, who immigrated to Newark in the late 1800s and later became a City Commissioner and member of the Newark Housing Authority. The profile was written by the Works Progress Administration (WPA), a New Deal program that employed millions during the Great Depression through projects such as ethnological surveys of major cities like Newark. — Credit: New Jersey State Archives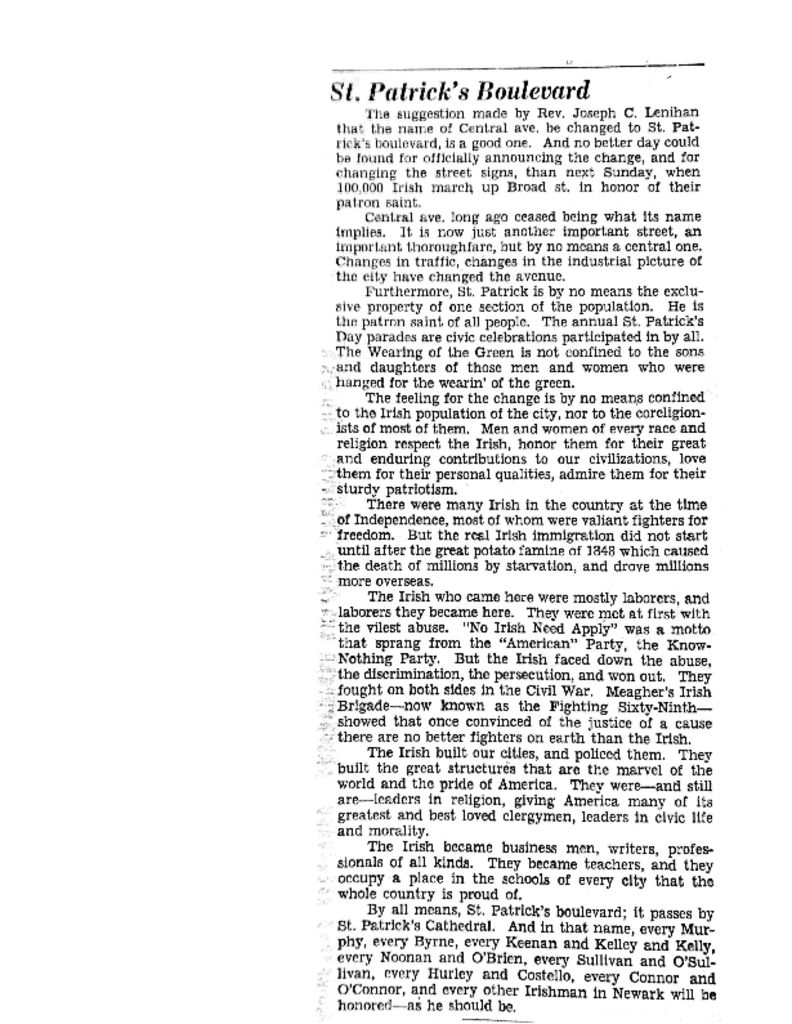 A 1940 article from the Star-Ledger, covering the suggestion of Irish clergyman Joseph C. Lenihan to change the name of Central Avenue in Newark to "St. Patrick's Boulevard." — Credit: New Jersey State Archives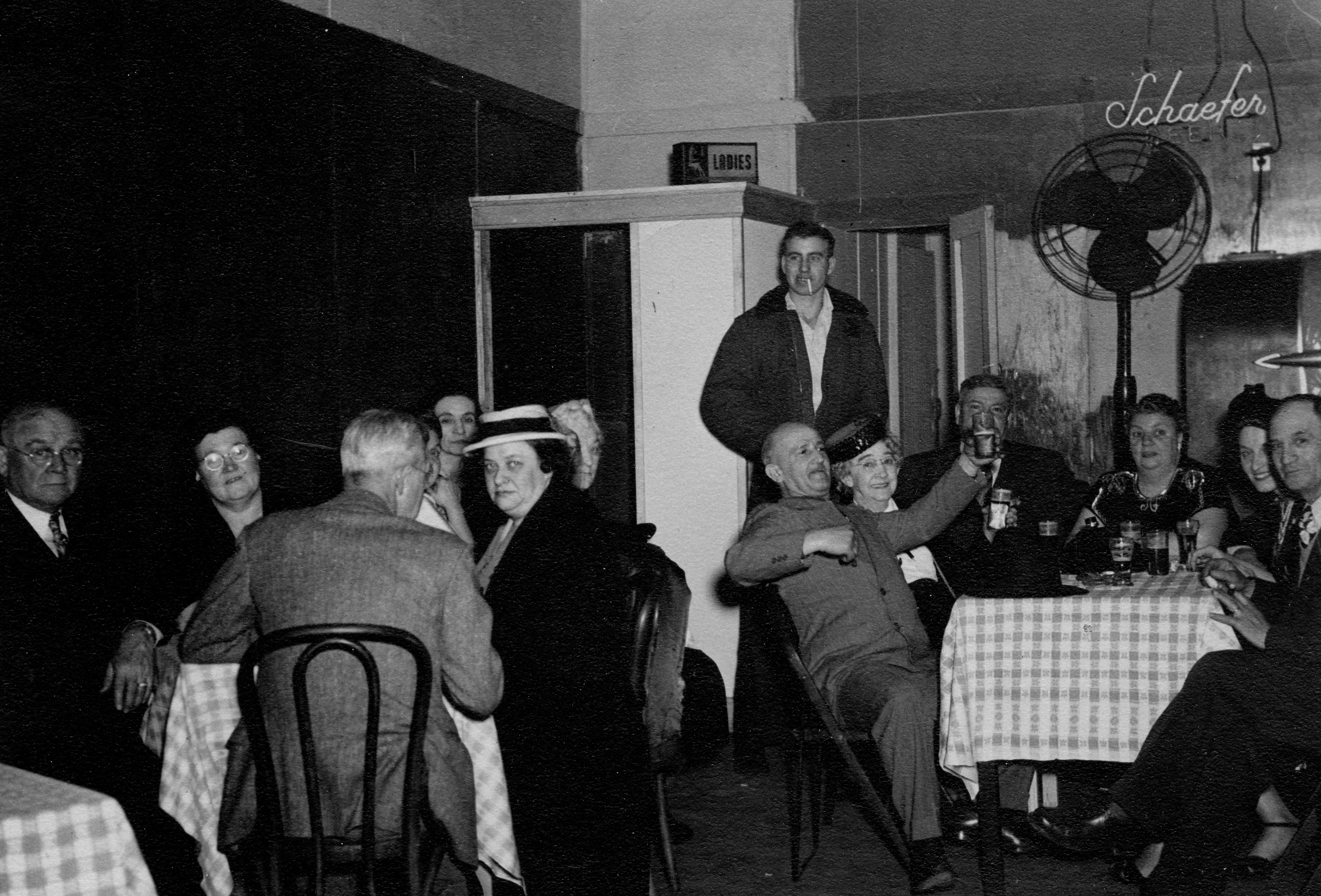 A look inside Sweeney's Tavern in Newark in the 1950s. Taverns, pubs, and bars have been important social, political, and cultural gathering places for many ethnic groups in Newark. — Credit: Newark Public Library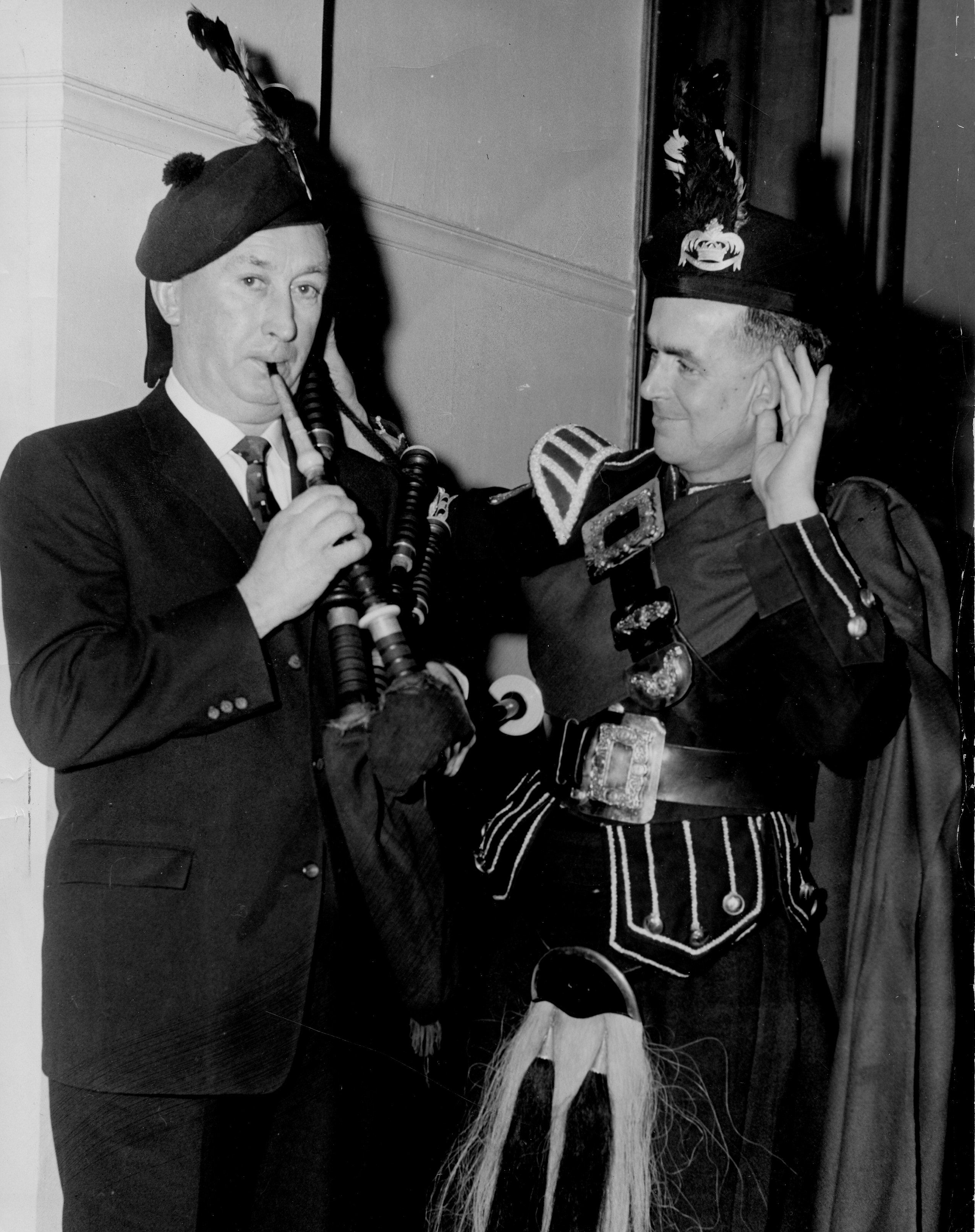 A photograph from 1960 showing two Irish bagpipers, most likely preparing for a parade or march. — Credit: Newark Public Library