The census in 1880 showed only 407 Italians in Newark. But by 1910, there were 20,000 Italians. As Irish immigrants, or their sons, rose to positions of leadership in the building trades and among street paving and railroad contractors, they needed workers for the menial tasks that once had been assigned to them." Italians took these backbreaking jobs.
Italians came to this country for the same reason` as other immigrant groups: for work. "Like all immigrants they were economically needed but socially resented…talking a foreign language that none here at that time understood….a dark complexioned people (with) fiery tempers."
The Italians took the dirtiest jobs, eager to prove themselves in the land of the free. The few with skills quickly displaced the Germans as barbers and their knowledge of masonry was invaluable in a growing city. Both Italians and Russians turned to clothing manufacturing, jewelry making, and leather tanning, but most did the menial work of cleaning or on the railroad tracks.
When the Italians started coming to Newark around the late 1800's (1873 or 1875), they settled in the Boyden Street section, which later became the First Ward (now North Newark). Due to the steady increase of Italian immigrants, St. Lucy's Church was built in 1892. Subsequently three other "Little Italy's" were formed as they spread out and improved their lifestyles. They were situated at 7th Avenue around St. Lucy's Church; 14th Avenue, around St. Rocco's Church; the Ironbound section, around Our Lady of Mt. Carmel Church; and in Silver Lake (Newark and Belleville) around St. Philip Neri's Church. As the Italian and Irish communities expanded, boundaries were established to avoid territorial problems. The Italians gradually began pulling away from Boyden to Drift Streets, which they continued to occupy until the Newark Housing Authority pulled it down for Columbus Homes in the 1950s.
The Italians, like the Irish, built social and political organizations and gradually organized themselves into the political mainstream of Newark and Essex County. There are many elected officials at all levels of government, police, fire department officials, and other administrations; owners of businesses and professions, including downtown businesses and major professional firms, as well as successful educators and philanthropists. Hugh Addonizio served as Mayor under the strong Mayor form of government in Newark from 1962-1970, while Ralph Villani was Mayor under the commission form from 1949 to 1953. Newark is noted also for its Italian underworld figures like Anthony "Tony Boy" Boiardo, who succeeded Longies Zwillman in underworld influence in Newark.
On fiesta days, thousands of Italians filled the streets with colorful processions. But the Little Italy around St. Lucy's was destroyed by a combination of construction of public housing and Route 280; and Italians like other whites, began leaving Newark for suburban homes in the 1950s. There were significant numbers of Italians living in the North Ward of Newark in the late 1970s, enough to elect Anthony Imperiale as an Independent when he ran for State Senator; and to stop Amiri Baraka from building houses in the North Ward. But by the 1980s, the powerful Italian voting block had moved to other parts of Essex County or down to the Jersey shore communities. The Italians, as an ethnic group, were the last to leave.
References:
Charles F. Cummings, Knowing Newark: Selected Star-Ledger Columns by Charles F. Cummings.
John Cunningham, Newark.
"Descendants of Italian Settlers Rise as Leaders in new Jersey," The Ledger, 1935.
"Early Italian Immigrants made Victims of Padrone System," The Ledger, November 7, 1935.
"Italians Best-Organized Foreign Element, Most Cohesive Group, WPA Newark Survey Shows," Unmarked news clipping, February 1940.
"Italian Colony Here Started 65 Years Ago," Unmarked news clipping, 1936.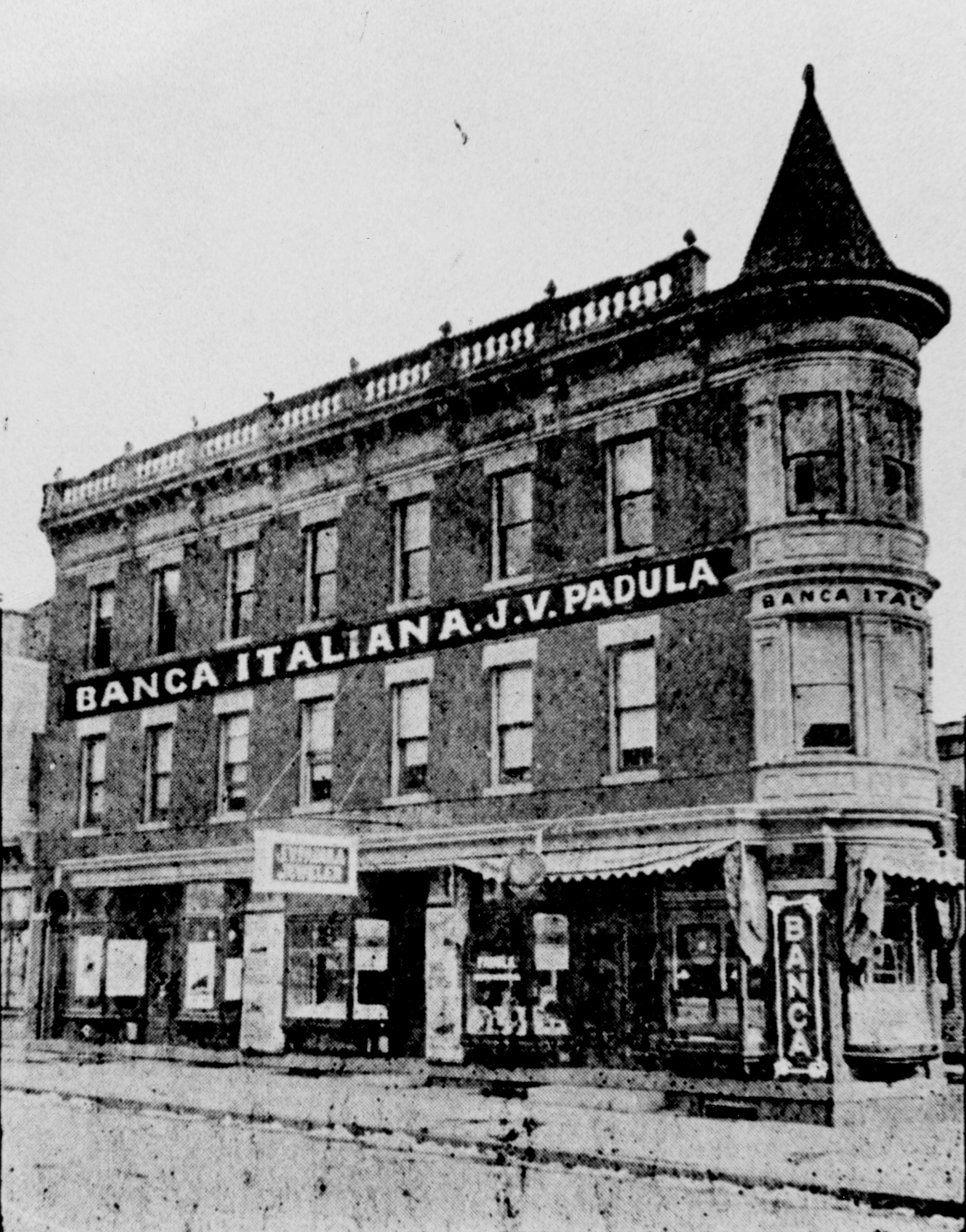 A photograph of Banca Italiana in Newark in the early 1900s. Italian immigrants began arriving in Newark in the late 1800s, settling in North Newark around Boyden Street and developed many cultural, economic, and political institutions. — Credit: Newark Public Library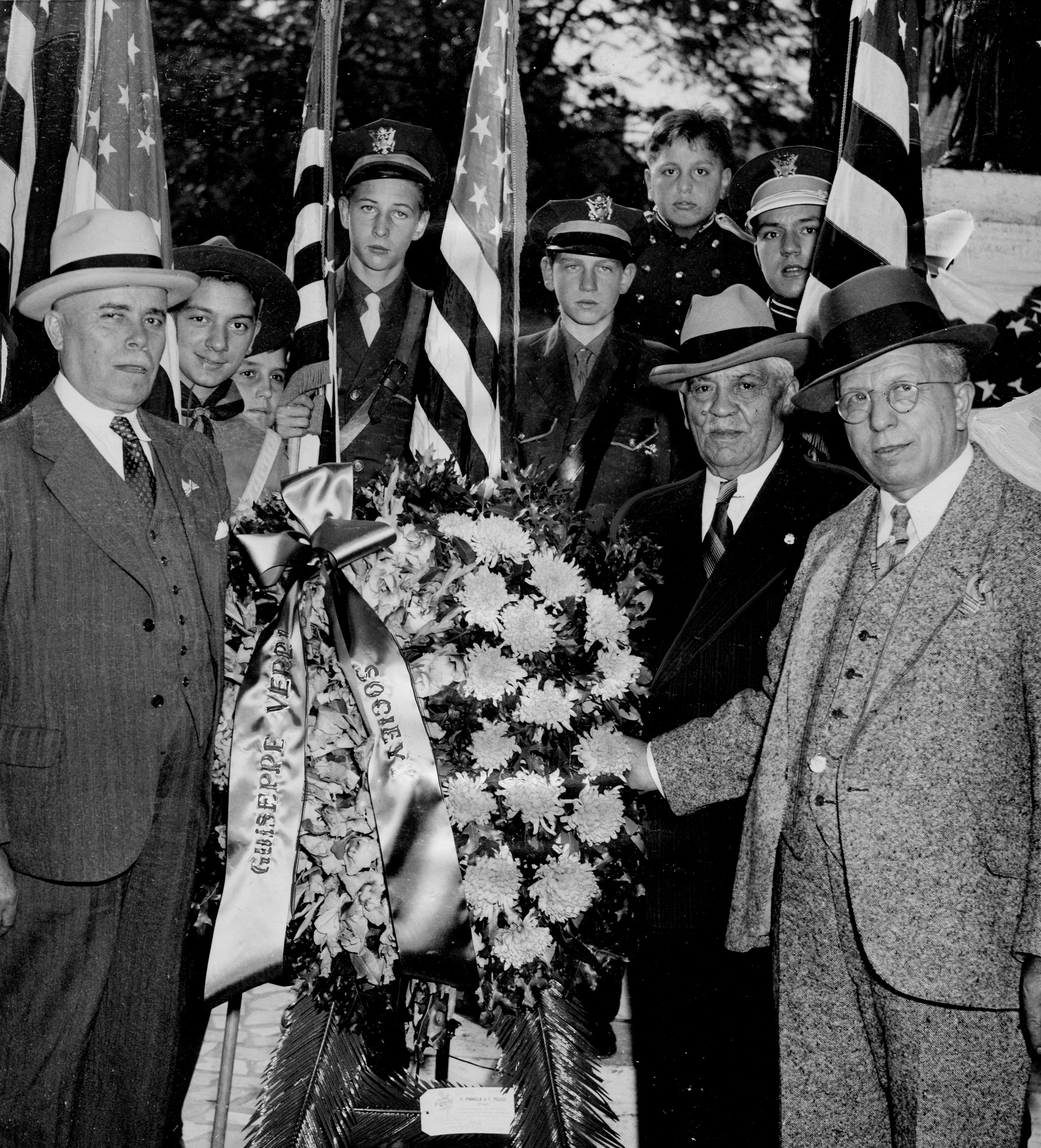 A 1941 photograph of Italian-Americans in Newark posing at a Columbus Day Festival. Italian immigrants began arriving in Newark in the late 1800s, settling in North Newark around Boyden Street and developed many cultural, economic, and political institutions. Festivals and parades have been important expressions of cultural pride and identity for ethnic groups in the city. — Credit: Newark Public Library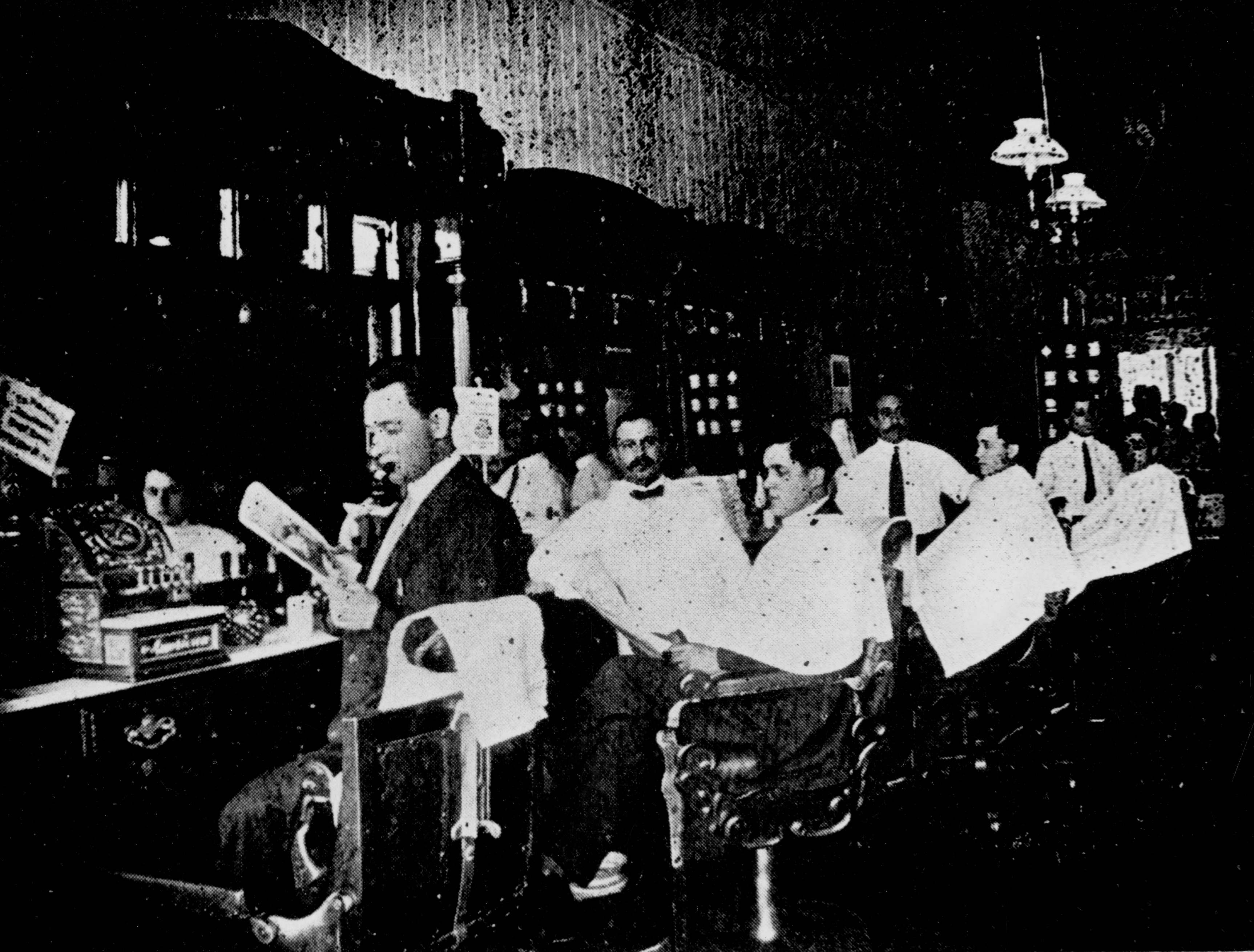 A look into an Italian barbershop in Newark in the early 1900s. Italian immigrants began arriving in Newark in the late 1800s, settling in North Newark around Boyden Street and developed many cultural, economic, and political institutions. — Credit: Newark Public Library
An undated photograph of a G. Melillo Fruit and Vegetable Market in Newark. Italian immigrants began arriving in Newark in the late 1800s, settling in North Newark around Boyden Street and developed many cultural, economic, and political institutions. — Credit: Newark Public Library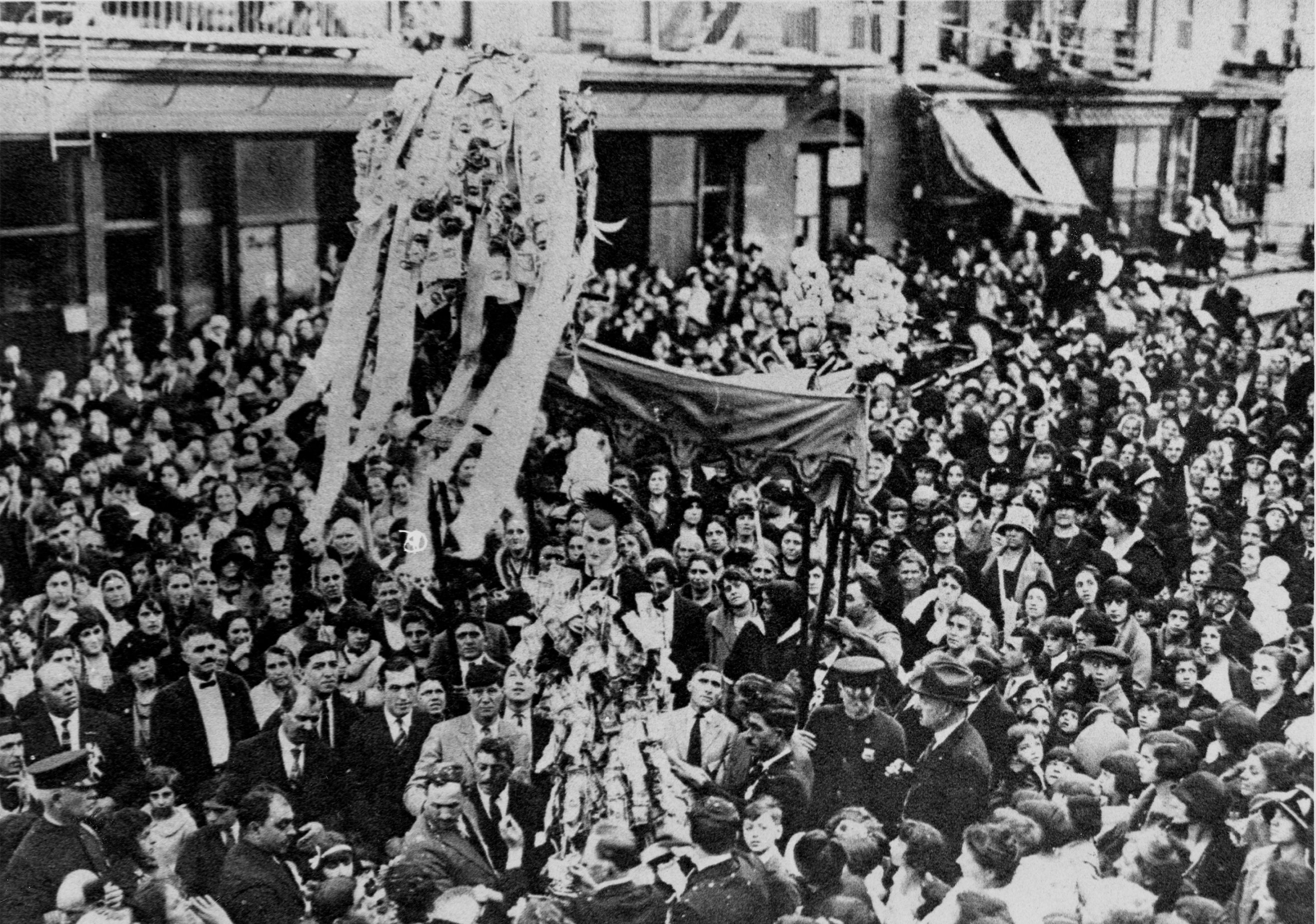 An undated photograph of an Italian festival in Newark. Italian immigrants began arriving in Newark in the late 1800s, settling in North Newark around Boyden Street and developed many cultural, economic, and political institutions. Festivals and parades have been important expressions of cultural pride and identity for ethnic groups in the city. — Credit: Newark Public Library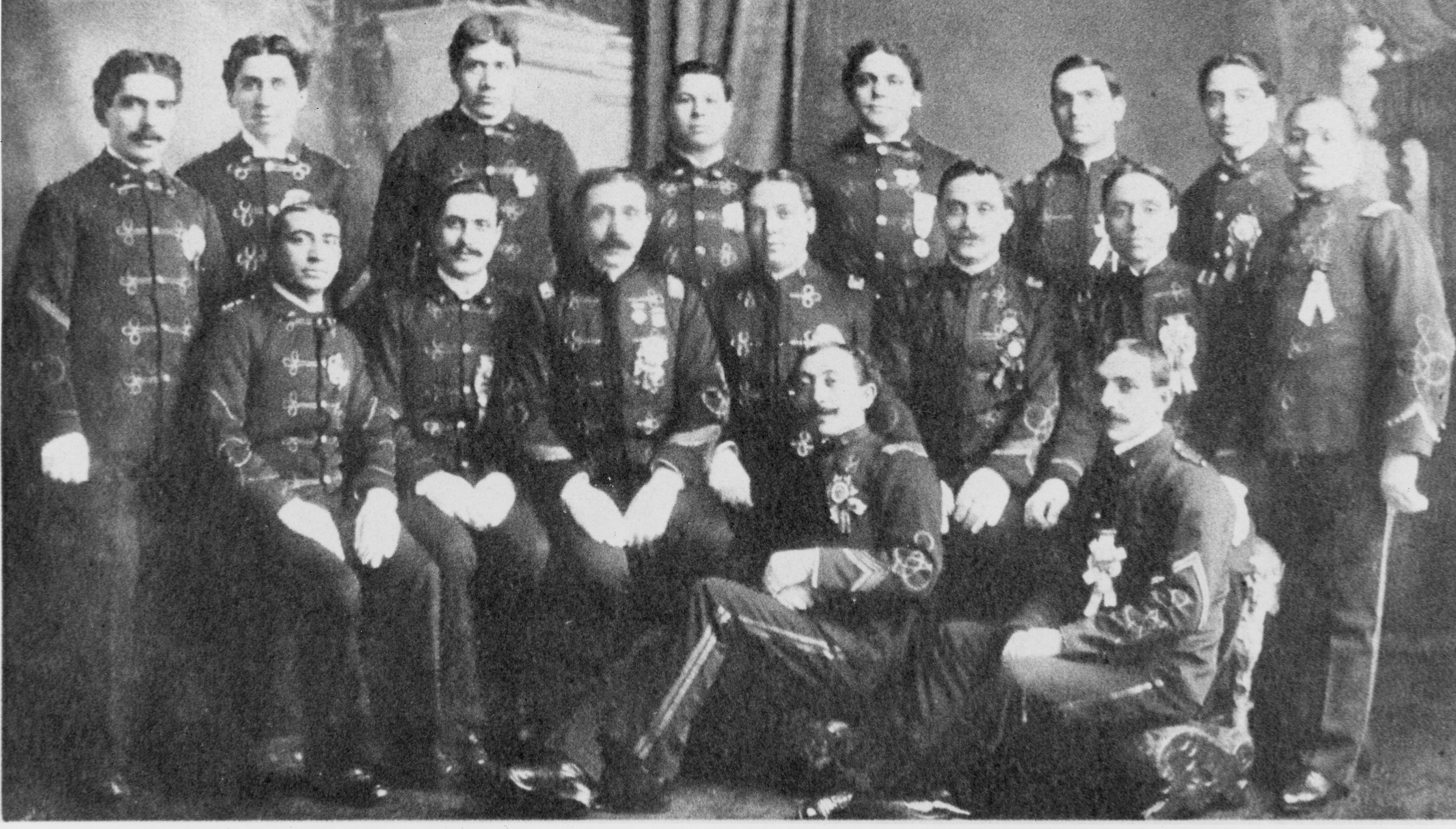 A 1933 photograph of the Italian Columbus Guards in Newark. Italian immigrants began arriving in Newark in the late 1800s, settling in North Newark around Boyden Street and developed many cultural, economic, and political institutions. Many ethnic groups in the city have established cultural and political associations to promote their ethnic identity and uplift. — Credit: Newark Public Library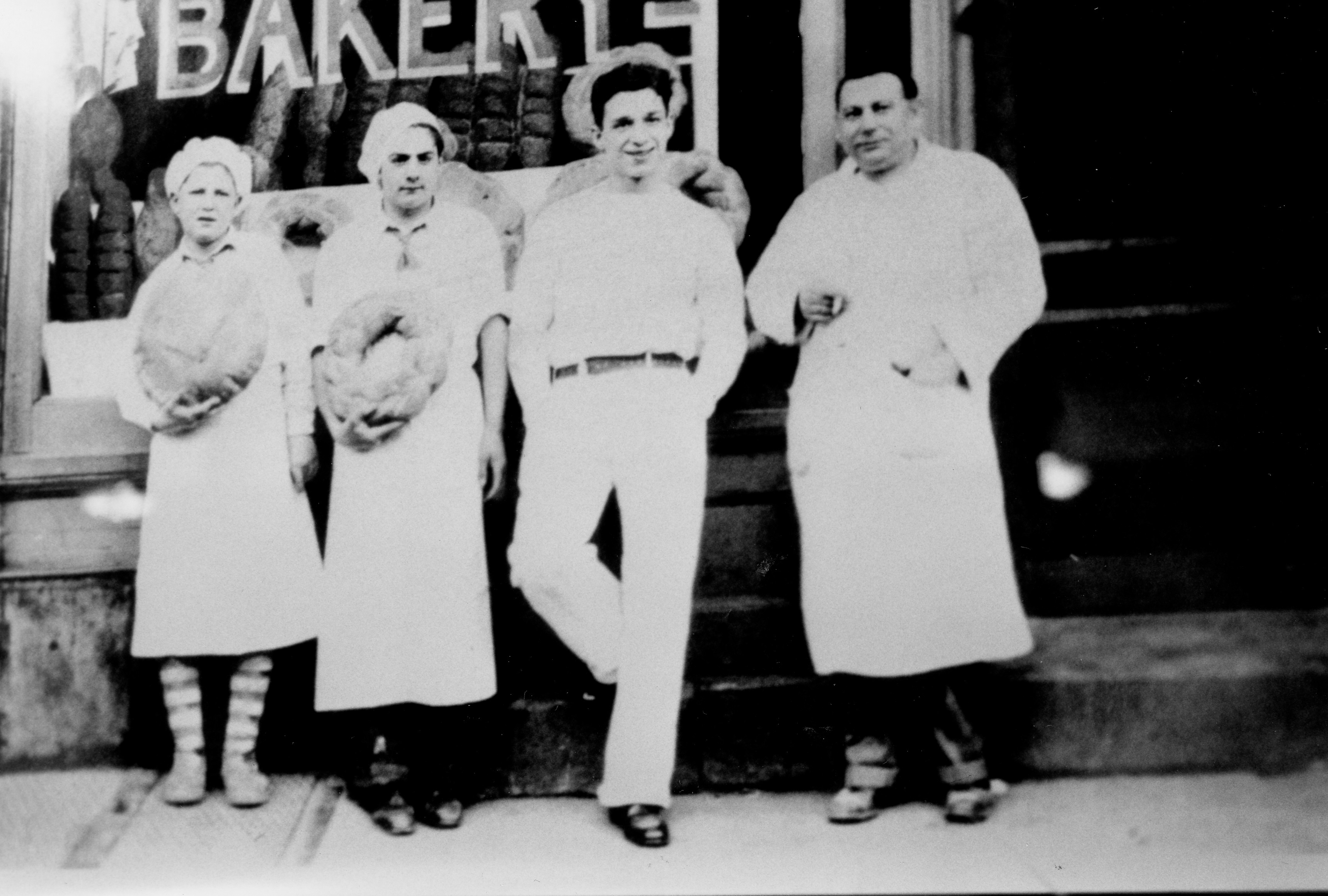 A 1936 photograph of Italian bakers outside of an unidentified bakery. Italian immigrants began arriving in Newark in the late 1800s, settling in North Newark around Boyden Street and developed many cultural, economic, and political institutions. — Credit: Newark Public Library