Mrs. Jessie Mae Jones lived with her husband and daughters in an apartment at 255 Fairmount Avenue, about three blocks from Springfield Avenue, and worked as a nurse's aide outside the city. Born in Quitman, GA in 1936 and raised near Fort Pierce, FL Mrs. Jones moved to Newark in 1956 where she raised her family.
Mrs. Jones returned home from work the evening of Thursday, July 13th amidst the unrest of the second night of rebellion that had broken out in the city. With buses and cabs shut down in her neighborhood, Mrs. Jones walked about two hours home, watching the commotion that was taking place on the streets as she headed home on foot. "That night there was so much going on we couldn't sleep," 15-year-old Dolores Jones said. "So my mother, and sister, Constance, sat out here on the porch until dawn. At 6:30 in the morning the neighborhood seemed quiet. Then a grey Cadillac driven by a white man moved up the street and it happened."
As the Cadillac drove up the block, 33-year-old Eyvind Chandler stood with friends on the sidewalk across the street from the Jones residence. The group had been out drinking around the city during the night, and now had gathered on the corner of Fairmount and South Orange Avenues where they threw bottles and rocks at cars passing by carrying white passengers. Shortly before the grey Cadillac pulled onto the block, a white man in a station wagon had gotten out of his car and fired a warning shot after his vehicle was hit.
When the grey Cadillac approached Chandler and his crew, the driver slowed to a stop. This time, Chandler drew a gun, pointed it toward the car, and fired across the street. The wild shot struck Mrs. Jones in the abdomen as she stood on her porch with her two daughters.
Jessie Mae Jones was dead at the age of 31 after been having caught in the crossfire of Eyvind Chandler's gunshot at a passing car. Mrs. Jones was one of four victims of the 1967 Newark rebellion whose death was not attributed to police or National Guard, and was the only victim not listed in the report of the Essex County Grand Jury.
References:
Ronald Porambo, No Cause for Indictment: An Autopsy of Newark
Notes and Statements of the Newark Legal Services Project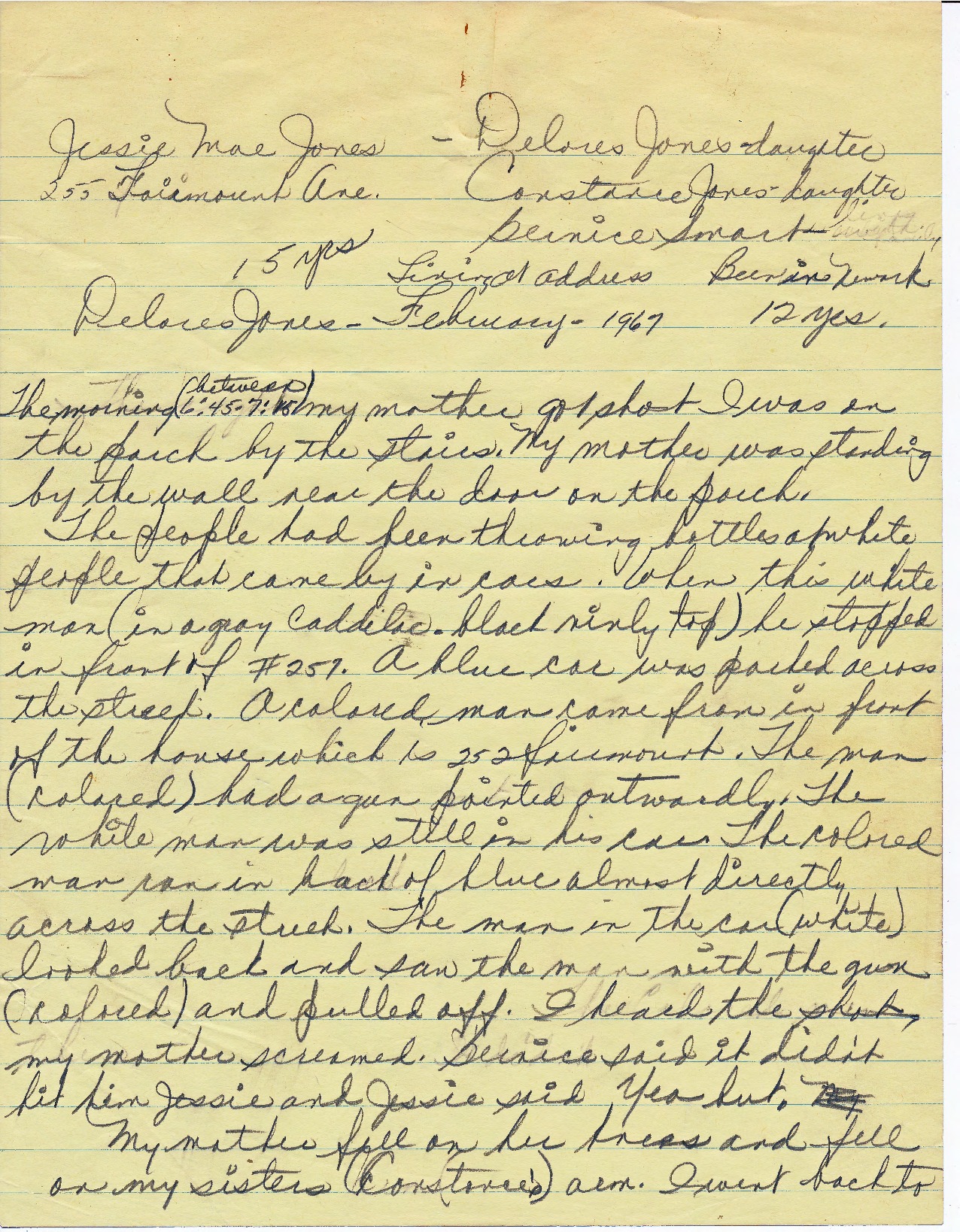 Statement given by Delores Jones to Newark Legal Services Project, in which she describes the fatal shooting of her mother, Jessie Mae Jones. — Credit: Junius Williams Collection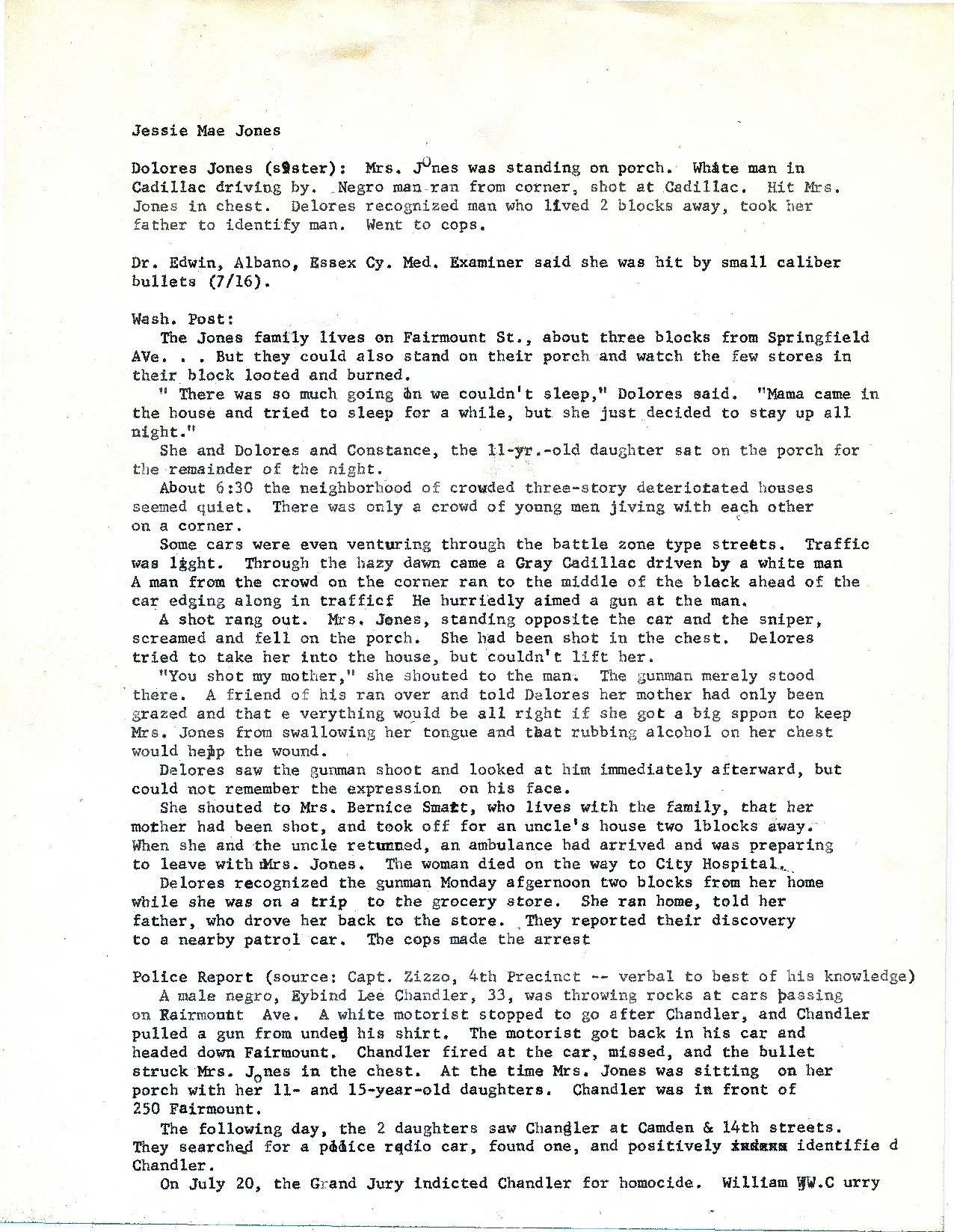 Statement given by Delores Jones to Newark Legal Services Project, in which she describes the fatal shooting of her mother, Jessie Mae Jones. — Credit: Junius Williams Collection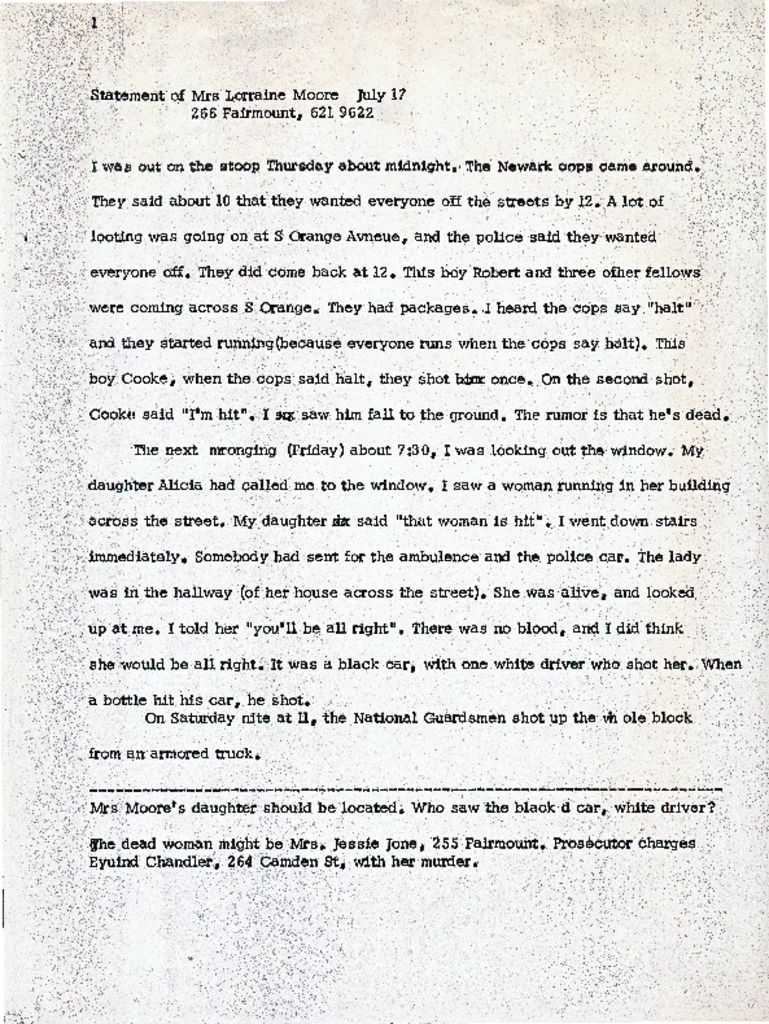 Statement give by Mrs Lorraine Moore to Newark Legal Services Project, in which she describes seeing Jessie Mae Jones after she was shot. Moore claims "it was a black car, with one white driver who shot her." — Credit: Junius Williams Collection