The Black Power Conference
Amiri Baraka (LeRoi Jones) was a part of the planning of the Black Power Conference chaired by Dr. Nathan Wright, scheduled to take place in Newark in the summer of 1967 before the Rebellion hit. The Black Power Conference Committee was composed of nationally recognized black leaders of all stripes, and Nathan Wright was selected to coordinate this 3-day event at an Episcopal Church property in downtown Newark. After the rebellion, the local power brokers said, "call it off!" but the planners said, "No way!" And so the conference convened, fresh on the heels of the dying embers of the fires that consumed Newark for five days.
There sat Baraka, with a bandage on his head, not too long after getting out of jail and the hospital where his head was split open by a Newark policeman. He was one of the powerful speakers amongst a cast of characters that was a veritable "Who's Who" in Black politics: Jesse Jackson; Ron Karenga, of the US Organization in Los Angeles; Floyd McKissick, of CORE; H. Rap Brown, new Chairman of SNCC; Charles 27X Kenyatta whose organization was called the "Harlem Mau Maus"; representatives from the "traditional" Civil Rights organizations like the NAACP and The Urban League; and Malcolm X's organization, the Organization for Afro-American Unity. Baraka quickly attracted a larger local following, and became the center of attention.  He by-passed and outshone a lot of other people who toiled sometimes unrecognized in the vineyard of social change, but who didn't have the spotlight Baraka now commanded. What role would Baraka play in the new table set for the next move in our quest for power in Newark?
Clip from "Newark: The Slow Road Back," which contains footage from the National Conference on Black Power, held in Newark from July 20-23, 1967. The conference was held just days after the 1967 Newark rebellion and attracted dozens of national figures to the city, such as H. Rap Brown, chairman of the Student Nonviolent Coordinating Committee. The clip also shows news footage from an interview with Governor Richard Hughes, in which he says that Black Power "undoubtedly" contributed to the 1967 Newark rebellion. — Credit: Sandra King, "Newark: The Slow Road Back"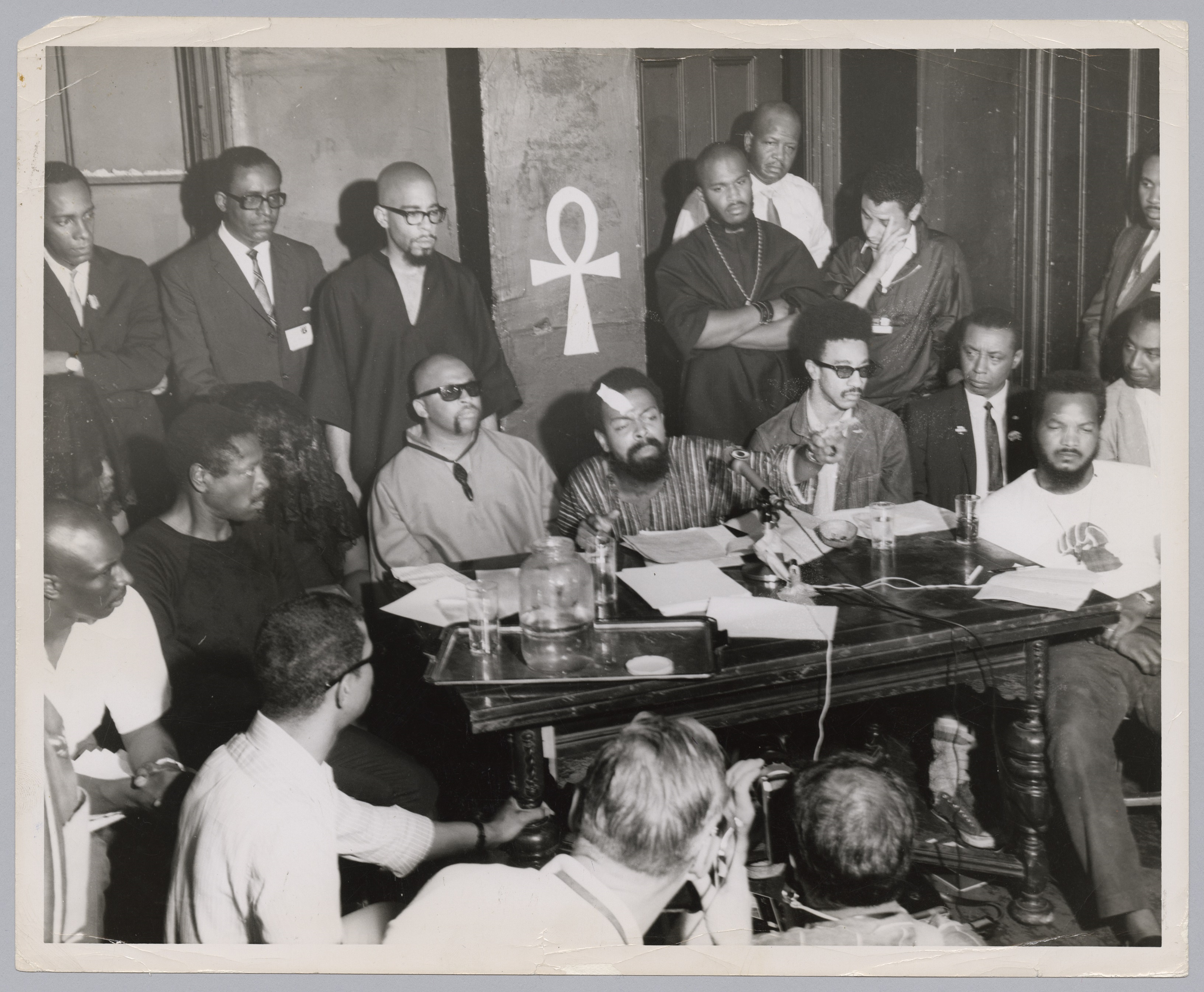 A view inside a press conference held at Amiri Baraka's Spirit House in Newark during the National Conference on Black Power in July, 1967. Seen seated in the photo from L-R are: the mother of James Rutledge (shot 39 times during the rebellion), Ron Karenga (US Organization), Amiri Baraka (United Brothers and CFUN), H. Rap Brown (SNCC), and Floyd McKissick (CORE). Newark Community Union Project (NCUP) and SNCC member Phil Hutchings can also be seen standing behind Brown and McKissick. — Credit: Amiri Baraka Papers; Rare Book and Manuscript Library, Columbia University Library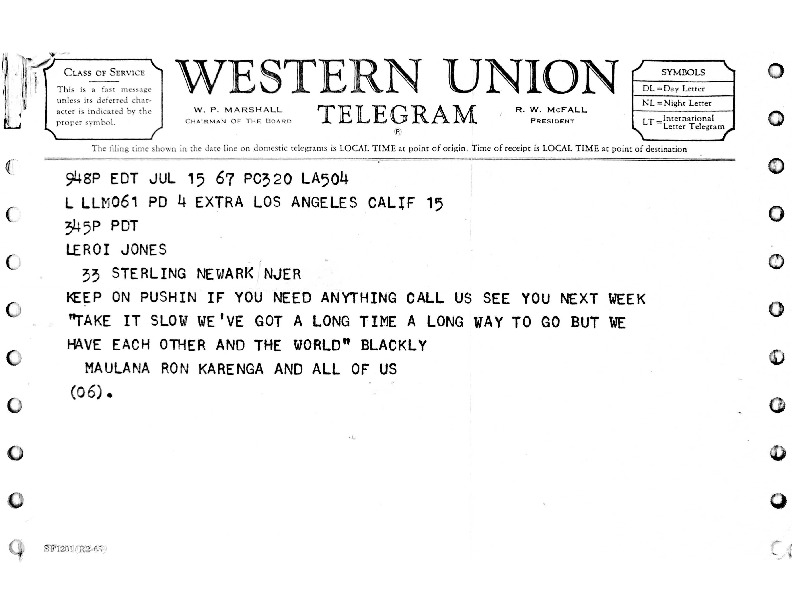 Telegram sent by Ron Karenga, of the nationalist US Organization in Los Angeles, to LeRoi Jones (Amiri Baraka) on July 15, 1967. The telegram reads: "Keep on pushin if you need anything call us see you next week. 'Take it slow we've got a long time a long way to go but we have each other and the world.' Blackly, Maulana Ron Karenga and All of US" — Credit: Amiri Baraka Papers; Box 56, Folder 13; Rare Book and Manuscript Library; Columbia University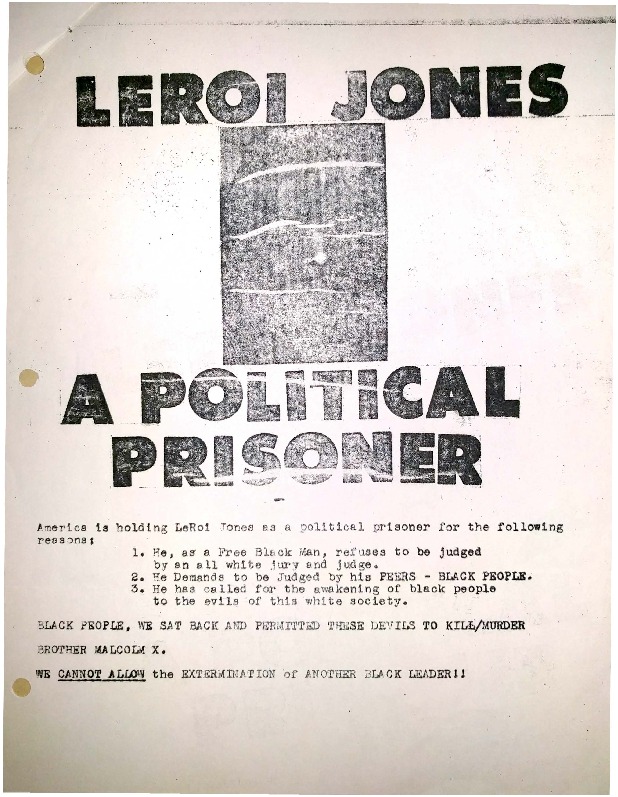 Flyer distributed to protest the arrest and trial of LeRoi Jones (Amiri Baraka), who was arrested and beaten by police during the 1967 Newark rebellion on allegations of gun possession. Newark Police alleged that the flyer was printed and distributed by the United Community Corporation at 124 Branford Place in Newark. — Credit: New Jersey State Archives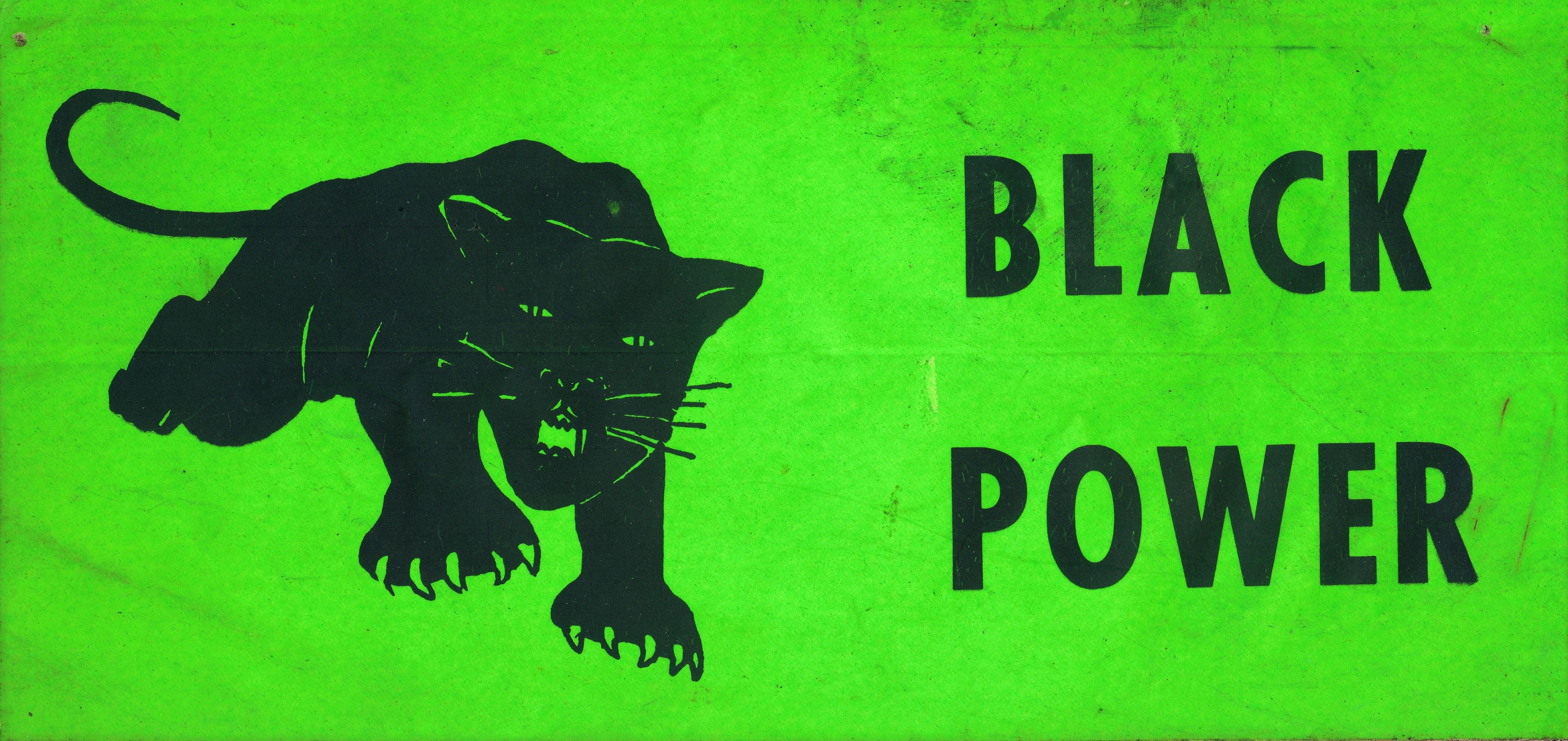 A bumper sticker promoting "Black Power" that was distributed in Newark in the late 1960s. The slogan "Black Power" was made famous by Student Nonviolent Coordinating Committee (SNCC) Chairman, Stokely Carmichael, in 1966. The image of a black panther was first utilized by the Lowndes County Freedom Organization in Alabama and later adopted by the Black Panther Party. — Credit: Junius Williams Scrapbook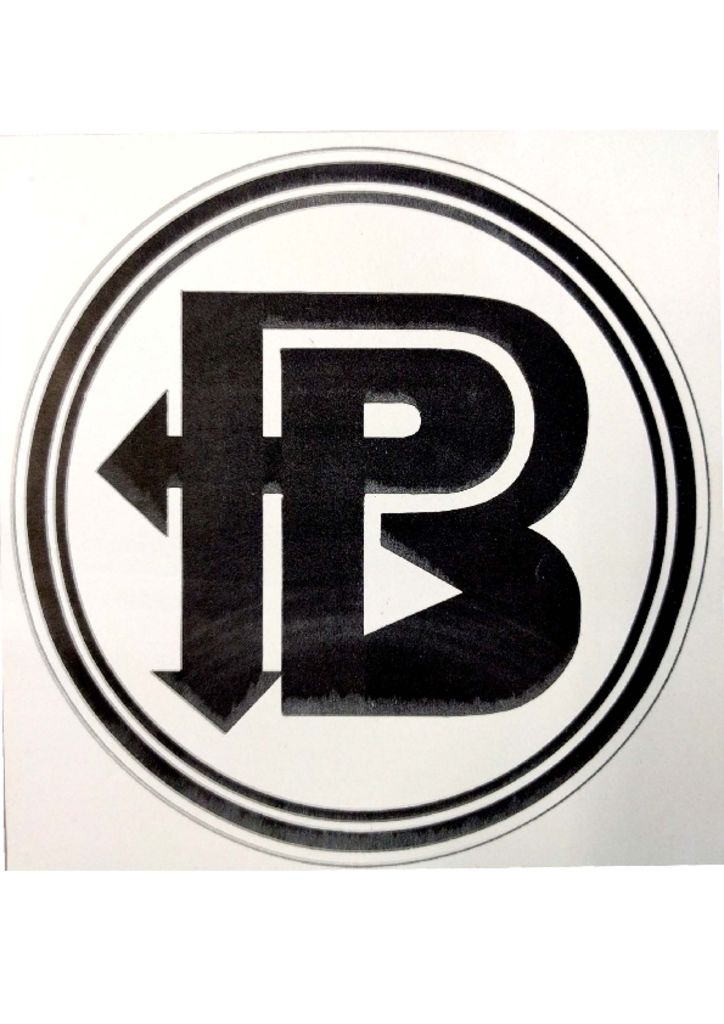 A sticker of the logo for the National Conference on Black Power, held in Newark from July 20-23, 1967. The conference was held just days after the 1967 Newark rebellion and attracted dozens of national figures to the city. — Credit: Newark Public Library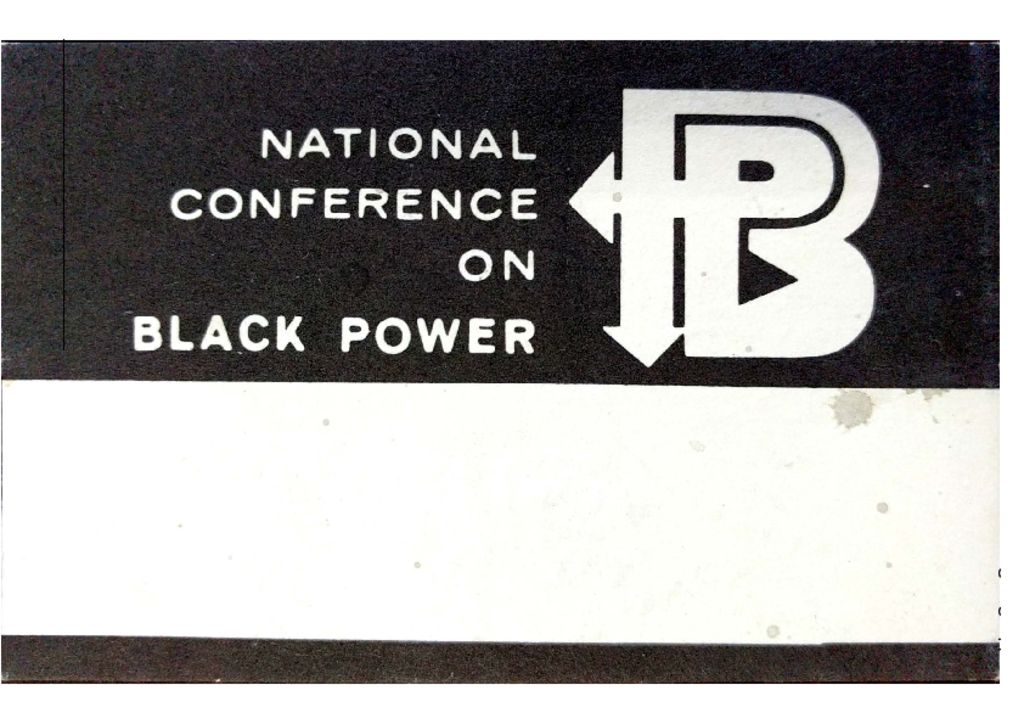 A namecard for the National Conference on Black Power, held in Newark from July 20-23, 1967. The conference was held just days after the 1967 Newark rebellion and attracted dozens of national figures to the city. — Credit: Newark Public Library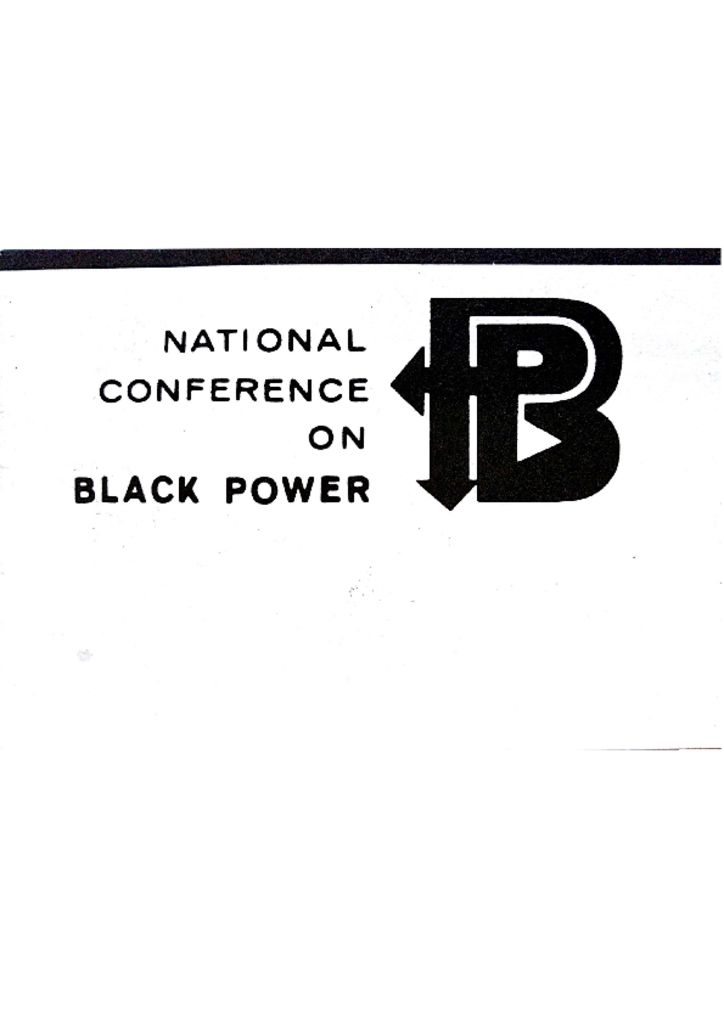 A namecard for the National Conference on Black Power, held in Newark from July 20-23, 1967. The conference was held just days after the 1967 Newark rebellion and attracted dozens of national figures to the city. — Credit: Newark Public Library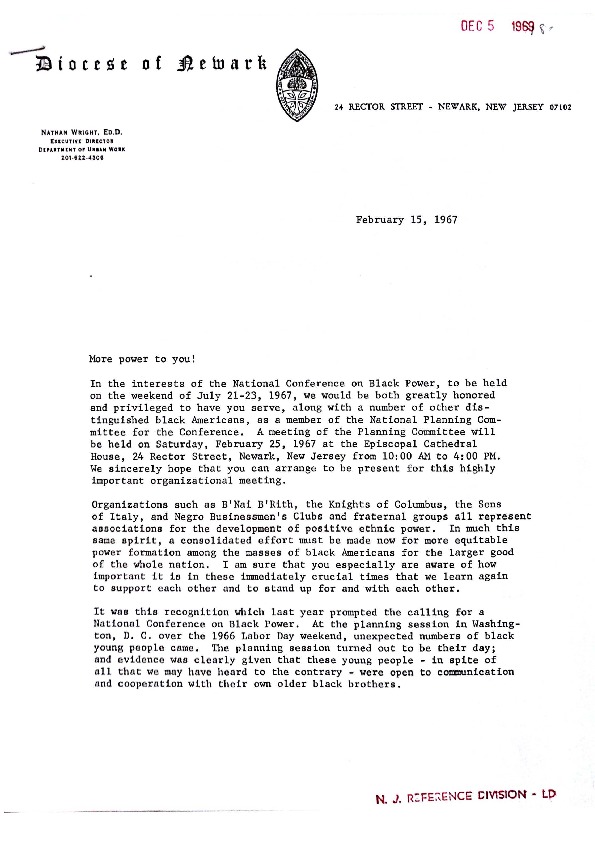 Letter of invitation from Dr. Nathan Wright to serve as a member of the National Planning Committee for the National Conference on Black Power, to be held in Newark from July 20-23, 1967. — Credit: Newark Public Library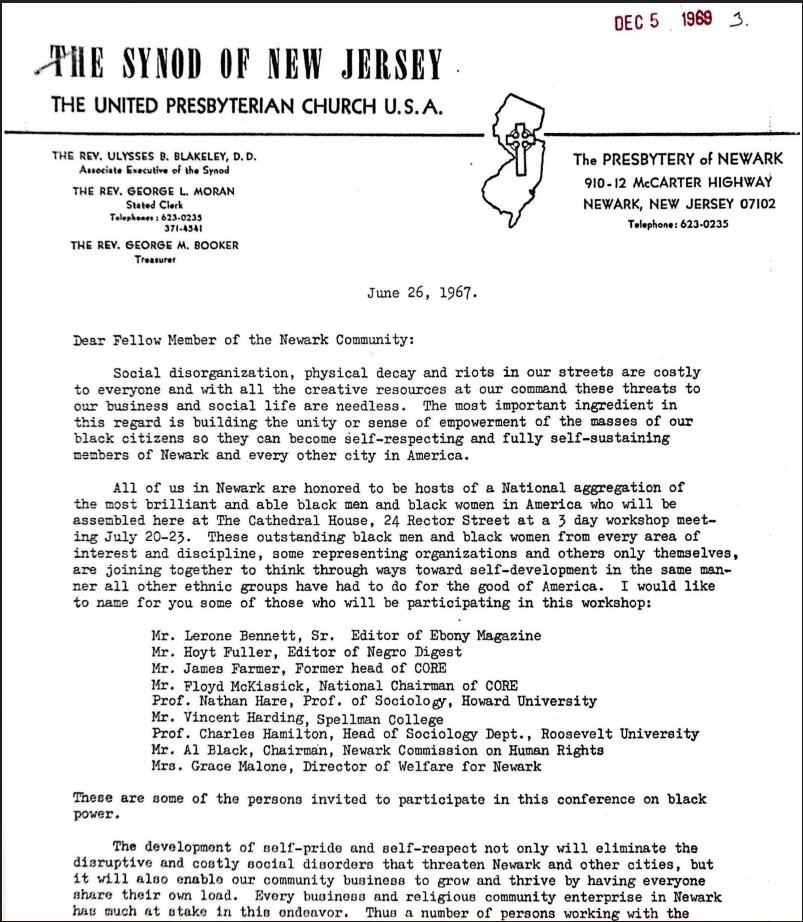 Fundraising letter from Ulysses Blakeley to solicit funds and participation for the National Conference on Black Power, to be held in Newark from July 20-23, 1967. — Credit: Newark Public Library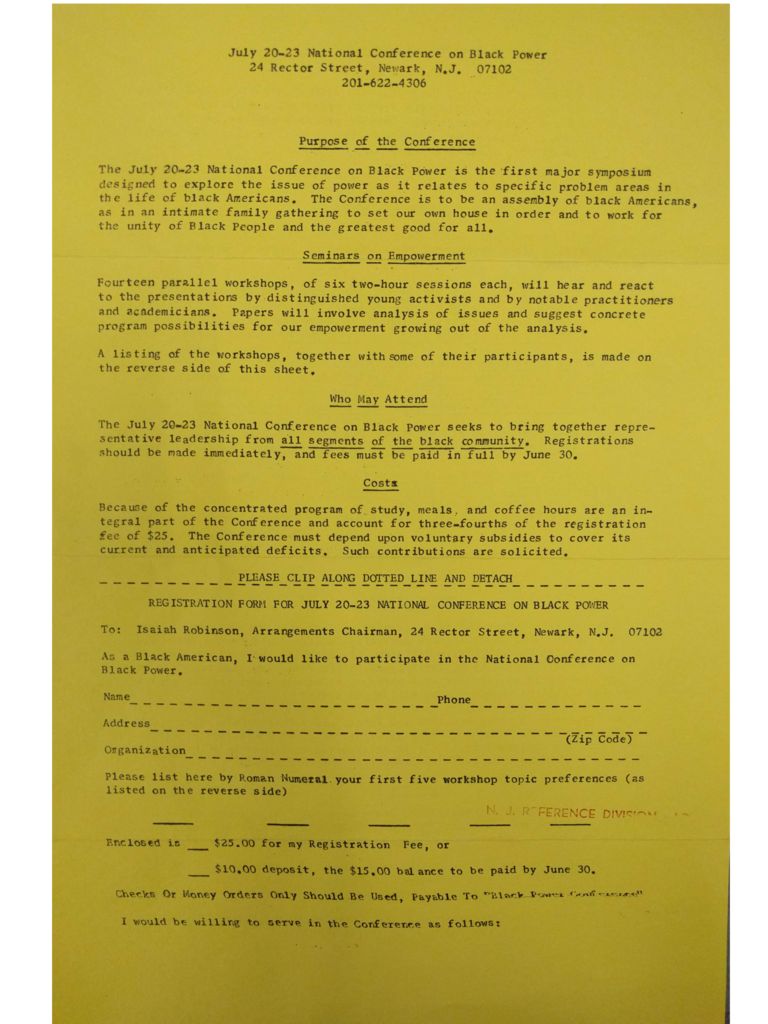 Registration form for the National Conference on Black Power, held in Newark from July 20-23, 1967. The conference was held just days after the 1967 Newark rebellion and attracted dozens of national figures to the city. Although highly criticized for being held immediately after the rebellion, the conference had been planned nearly a year before. — Credit: Newark Public Library
Clip from interview with Black Power advocate Dr. Nathan Wright, in which he describes the National Conference on Black Power, held in Newark from July 20-23, 1967. The Black Power Conference began just days after the 1967 Newark Rebellion had come to a close and brought a wide array of national Civil Rights and Black Power leaders to Newark. — Credit: Henry Hampton Collection, Washington University Libraries
Clip from interview with poet and activist Amiri Baraka (LeRoi Jones), in which he describes the National Conference on Black Power, held in Newark from July 20-23, 1967. The Black Power Conference began just days after the 1967 Newark Rebellion had come to a close and brought a wide array of national Civil Rights and Black Power leaders to Newark. — Credit: Henry Hampton Collection, Washington University Libraries
Clip from an interview with Newark Community Union Project (NCUP) member Junius Williams, in which he describes the National Conference on Black Power, held in Newark from July 20-23, 1967. The Black Power Conference began just days after the 1967 Newark Rebellion had come to a close and brought a wide array of national Civil Rights and Black Power leaders to Newark. — Credit: Henry Hampton Collection, Washington University Libraries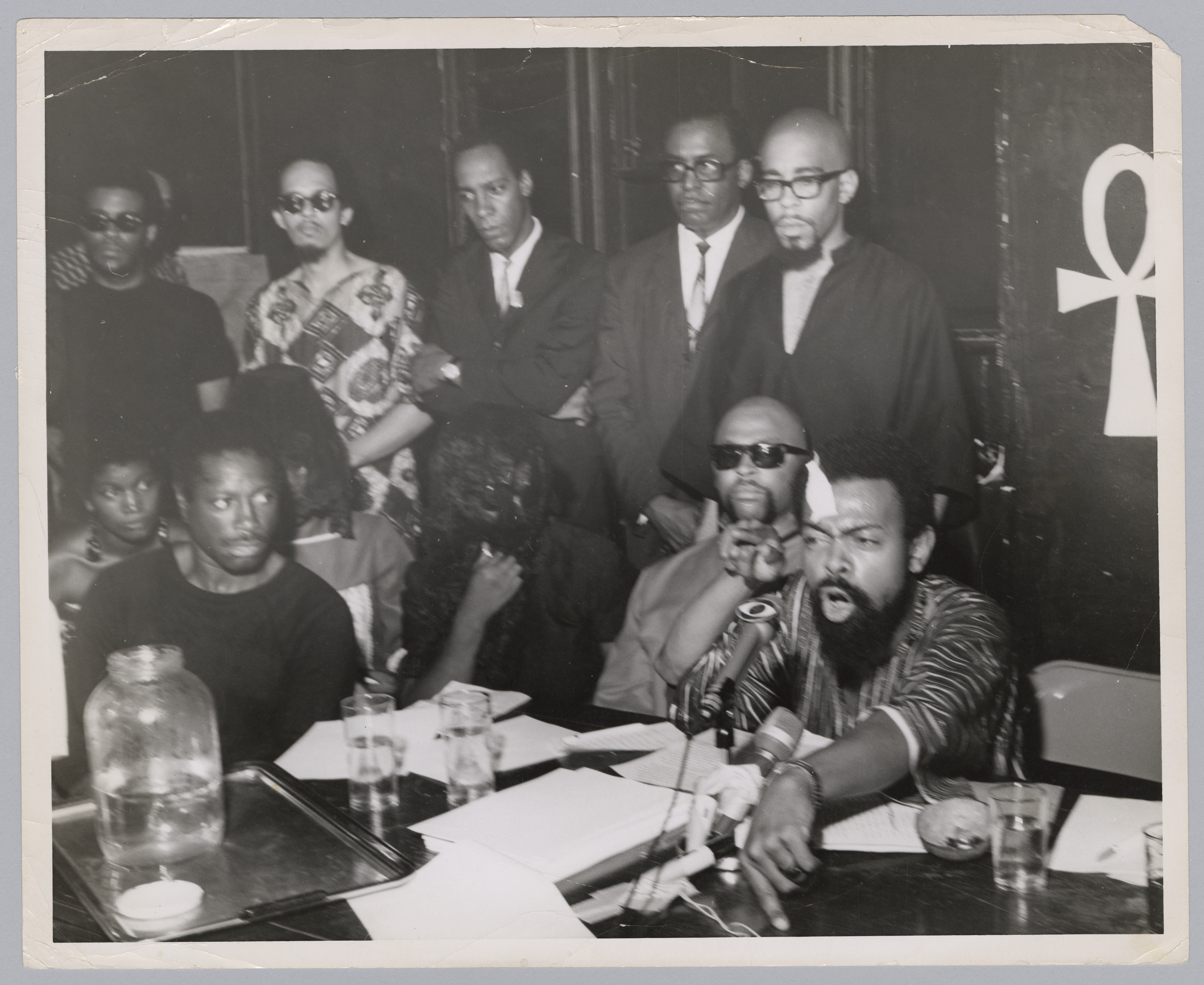 A bandaged Amiri Baraka (LeRoi Jones) holds a press conference inside the Spirit House in Newark during the National Conference on Black Power. Baraka was wounded after being arrested on gun charges and beaten by Newark Police during the 1967 rebellion. To the left of Baraka are cultural nationalist leader Ron Karenga (US Organization) and the mother of James Rutledge (veiled), who was shot 39 times by State Police during the rebellion. — Credit: Amiri Baraka Papers; Rare Book and Manuscript Library, Columbia University Library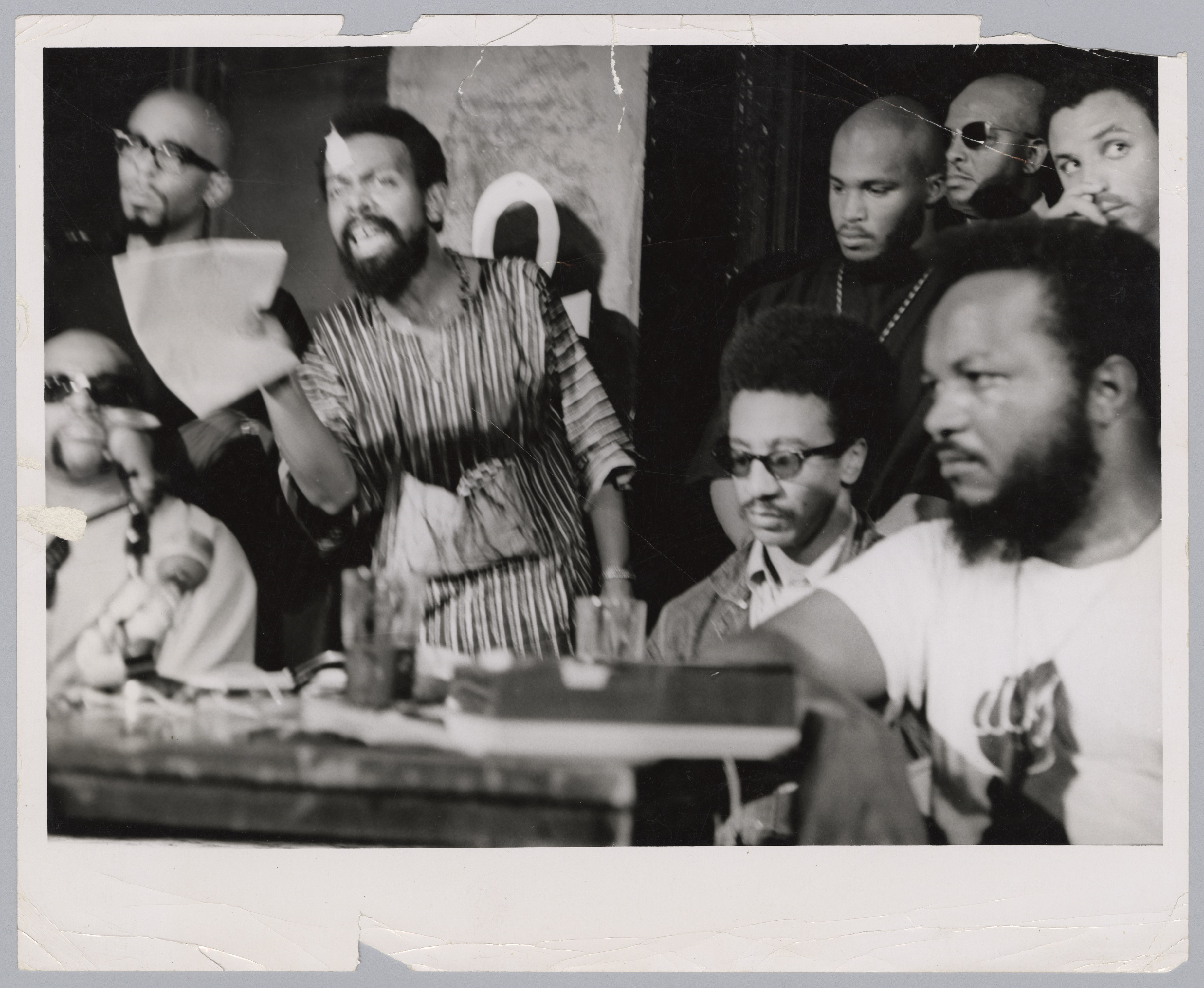 A bandaged Amiri Baraka (LeRoi Jones) holds a press conference inside the Spirit House in Newark during the National Conference on Black Power. Baraka was wounded after being arrested on gun charges and beaten by Newark Police during the 1967 rebellion. Left of Baraka is cultural nationalist leader Ron Karenga (US Organization). Right of Baraka is H. Rap Brown, Chairman of the Student Nonviolent Coordinating Committee (SNCC). — Credit: Amiri Baraka Papers; Rare Book and Manuscript Library, Columbia University Library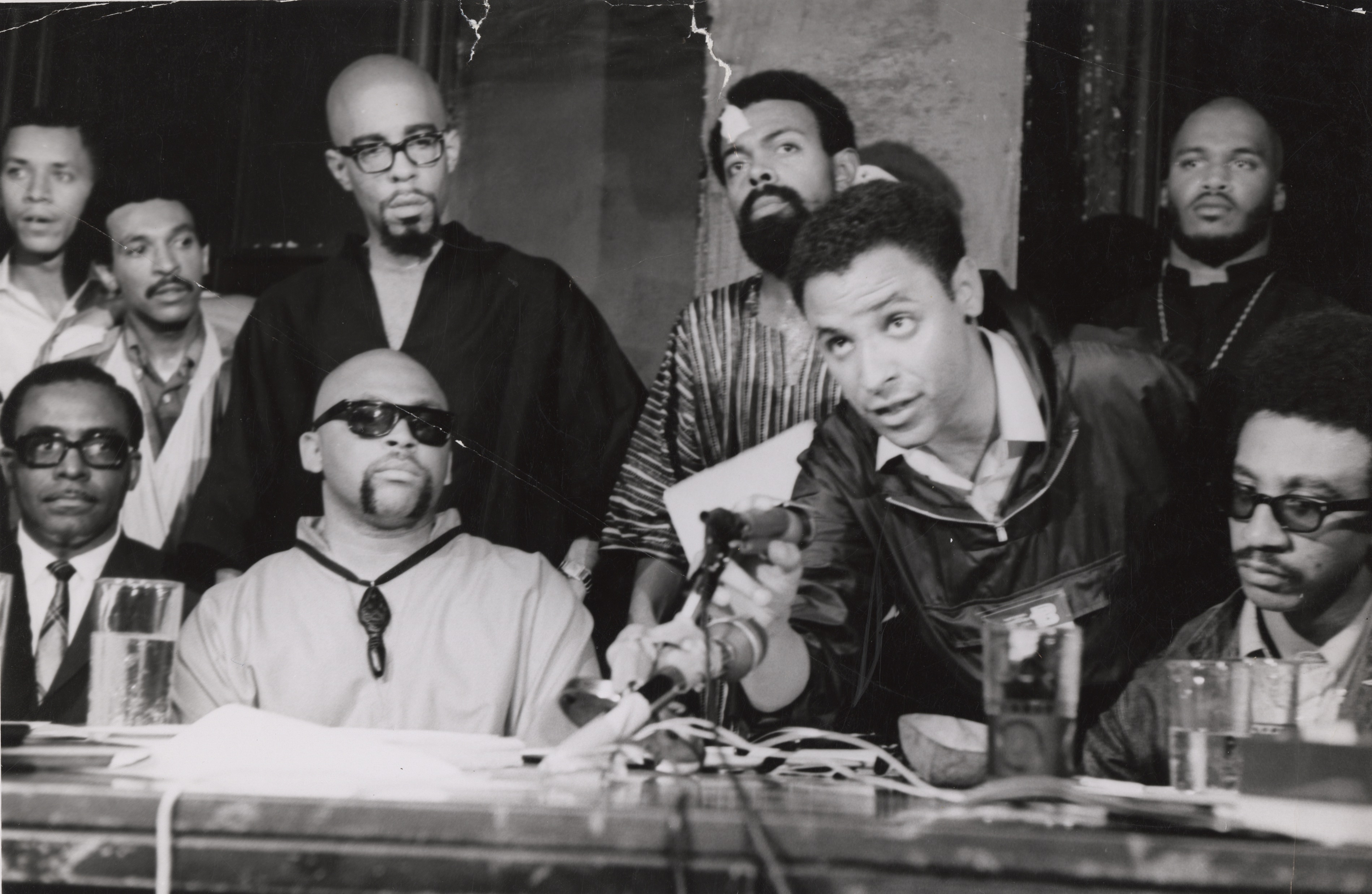 A view inside a press conference held at Amiri Baraka's Spirit House in Newark during the National Conference on Black Power in July, 1967. Addressing the microphone is Newark Community Union Project (NCUP) and Student Nonviolent Coordinating Committee (SNCC) member Phil Hutchings. Also pictured are: cultural nationalist leader Ron Karenga (US Organization) to the left of Hutchings, Amiri Baraka behind Hutchings, and SNCC Chairman H. Rap Brown to the right of Hutchings. — Credit: Amiri Baraka Papers; Rare Book and Manuscript Library, Columbia University Library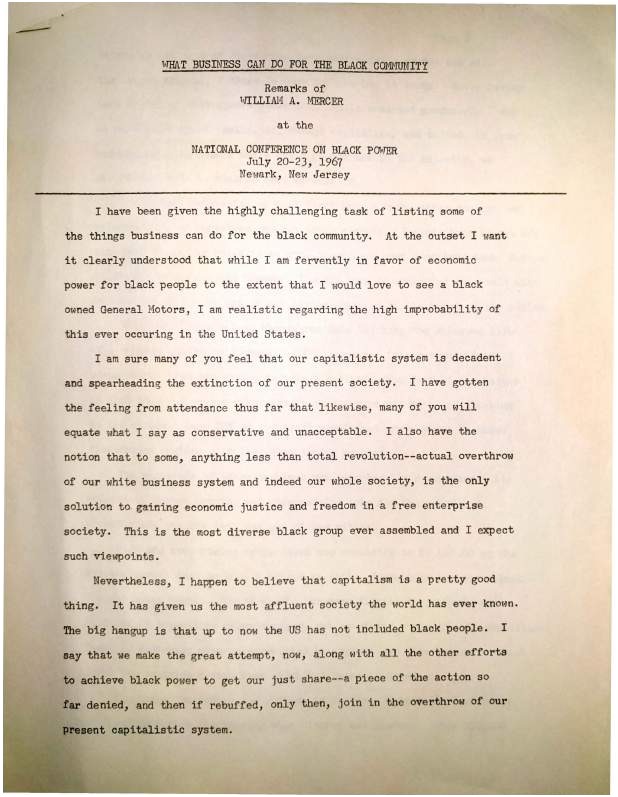 A speech written by William A. Mercer, Coordinator of the Business and Industrial Coordinating Council (BICC), that he presented at the National Conference on Black Power in Newark. The Black Power Conference began just days after the 1967 Newark Rebellion had come to a close and brought a wide array of national Civil Rights and Black Power leaders to Newark. — Credit: Newark Public Library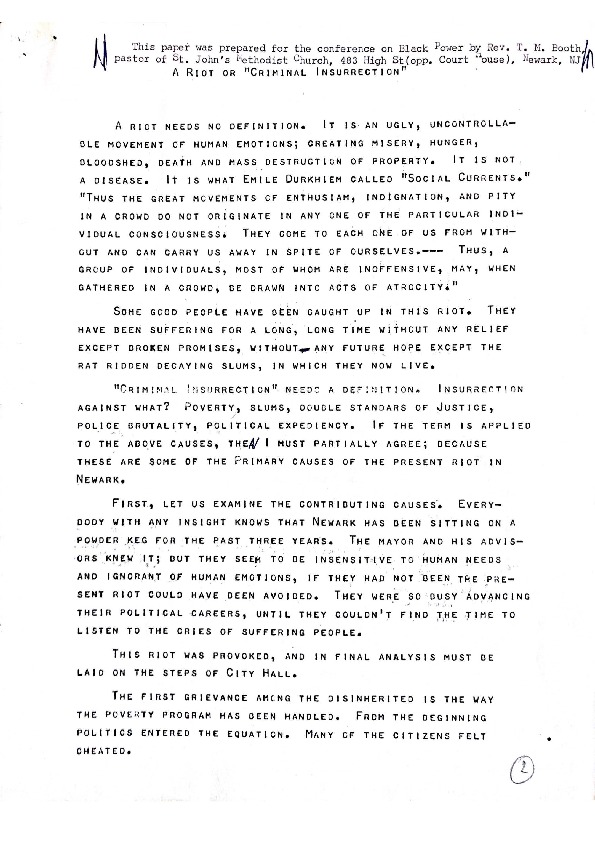 A speech written by Reverend T.M. Booth, pastor of Newark's St. John's Methodist Church, that he presented at the National Conference on Black Power in Newark. The Black Power Conference began just days after the 1967 Newark Rebellion had come to a close and brought a wide array of national Civil Rights and Black Power leaders to Newark. — Credit: Newark Public Library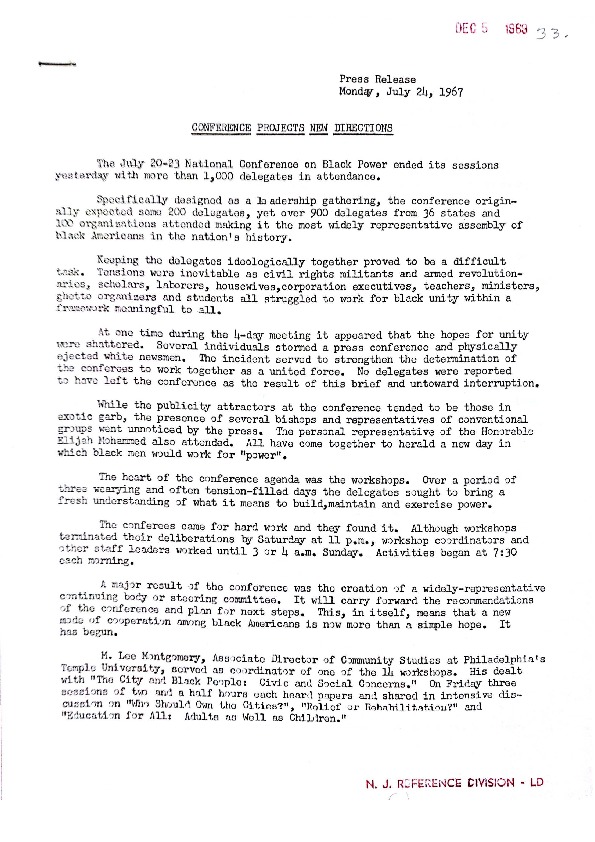 Press release from organizers of the National Conference on Black Power providing a summary and analysis of the four day conference in Newark. The Black Power Conference began just days after the 1967 Newark Rebellion had come to a close and brought a wide array of national Civil Rights and Black Power leaders to Newark. — Credit: Newark Public Library