Black Power/White Backlash
When the rebellion was over and order was restored to the streets of Newark, some whites feared for their lives. Those able to leave fled to the suburbs. But some stayed, for whatever reasons, particularly the Italians in the North Ward. A white vigilante, by the name of Anthony Imperiale, formed the North Ward Citizens Committee, famously stating, "If the black panther comes, the white hunter will be waiting." For many years, Bloomfield Avenue in Newark, a major county road running from west from Newark to Montclair and beyond, was as far north as African Americans could venture. To cross over was indeed very dangerous, similar to the boundaries between white and black neighborhoods in the South under Jim Crow.
Imperiale was more interested in expanding his personal power and influence than waiting for blacks to enter "his" territory.  In 1968, during the Model Cites Citizens Council election, Imperiale won a seat on the newly created council.  At the Council's first meeting, somebody nominated him for one of the two vice-president seats, on a Council dominated by a solid black majority, and he won. It was no joking matter to the United Brothers and the Committee for Unified Newark (CFUN). A plan was hatched to remove him from office at the next meeting. The plan went awry when two individuals who were to make and second the recall motion failed to show up at the meeting. The confrontation almost turned violent, with Baraka's Black Community Development and Defense (BCD) surrounding Imperiale's North Ward Citizens Committee fighters. Members of the BCD watched from roof tops around the Model Cities office, waiting for the order to strike.  Cooler heads prevailed, thus avoiding an all out race war. But the damage had been done.
Imperiale never came back to a meeting of the Neighborhood Council. But on the strength of his "victory" over black people on their own turf (since federal programs were deemed to be "black programs"), Imperiale parlayed his win into a seat for himself on the Newark City Council in a special election in 1968. There were 10,000 voters (mostly from the North Ward) who always carried his torch, enough for City Council, and later for a seat in the New Jersey Senate as an independent. These voters, however, were not enough for his campaign for Mayor in the race against Ken Gibson in 1970, and again in 1974.
Eventually, as his Italian and Irish base finally left town for the suburbs or the Jersey Shore, Imperiale became less of an issue. But not before destroying Baraka's dream of housing development in the North Ward with his stand in concert with Steve Adubato against the construction of Kawaida Towers in 1972.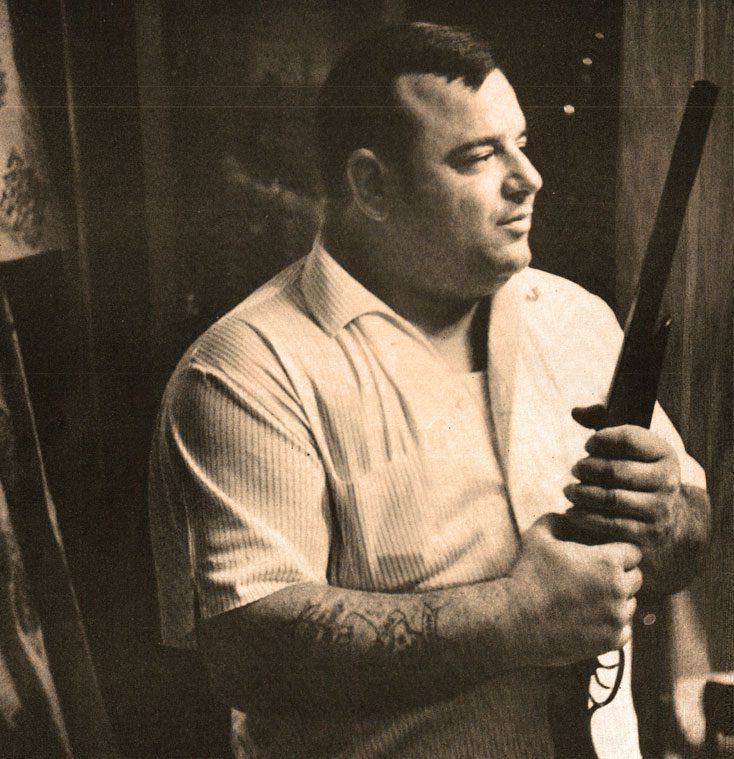 Photograph of North Ward vigilante and politician Anthony Imperiale holding a firearm. Imperiale and his North Ward Citizens Committee gained notoreity for the cache of weapons, including an armored car, that they claimed to have and for giving voice to white fears and resentment after the 1967 Newark rebellion. — Credit: www.pastdaily.com
Clip from an interview with NCUP member Carol Glassman, in which she describes the racial tensions after the 1967 Newark rebellion. Glassman describes the mindset and actions of some in Newark's white population, who felt that their communities were under attack during and after the rebellion. — Credit: Henry Hampton Collection, Washington University Libraries
Clip from "Newark: The Slow Road Back," in which former North Ward Democratic Party Chairman Steve Adubato describes the mindset of the white community in the North Ward during the 1967 Newark rebellion. Adubato recalls, "We had to rethink who we were. Are we in a war? If we get out into surburbia guess what? It's over, there's no war, no fighting, no racism, no problem, no Blacks, no Baraka's- none of that." Adubato came into political power following the rebellions as a more "moderate" white politician, in comparison to fellow Italian-American Anthony Imperiale, a vigilante who became the figurehead of white backlash in the late 1960s. — Credit: Sandra King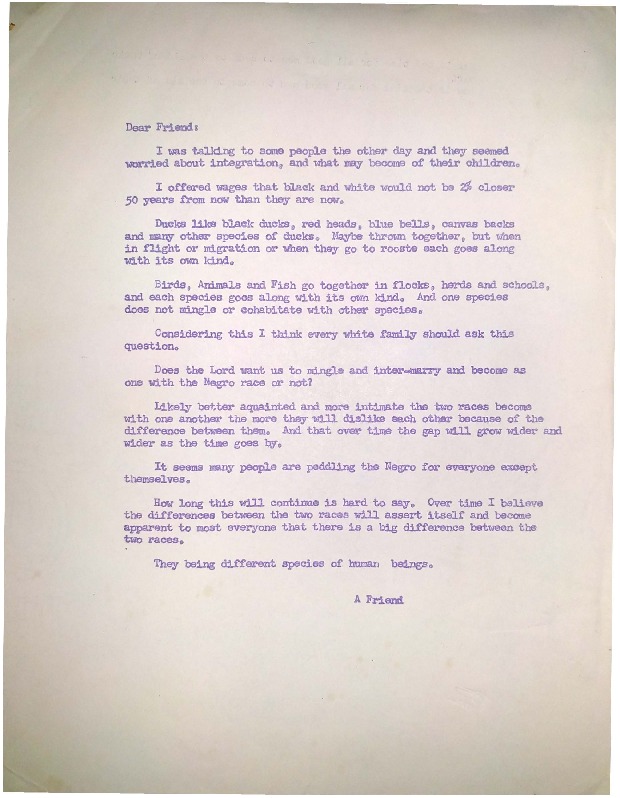 Anonymous letter from the files of Alexander Mark, former member of the Mayor's Commission on Group Relations, advocating racial segregation. Although there were no signs for separate entrances or drinking fountains in Newark, these types of sentiments were still prevalent in the city's white community. — Credit: Newark Public Library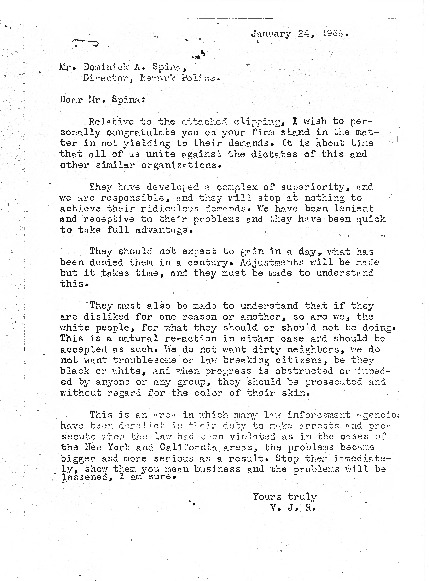 Letter received by Newark Police Director Dominick Spina, congratulating him on his "firm stand" against civil rights organizations in Newark. The author of the letter states that African Americans had "developed a complex of superiority…and they will stop at nothing to achieve their ridiculous demands." — Credit: Junius Williams Collection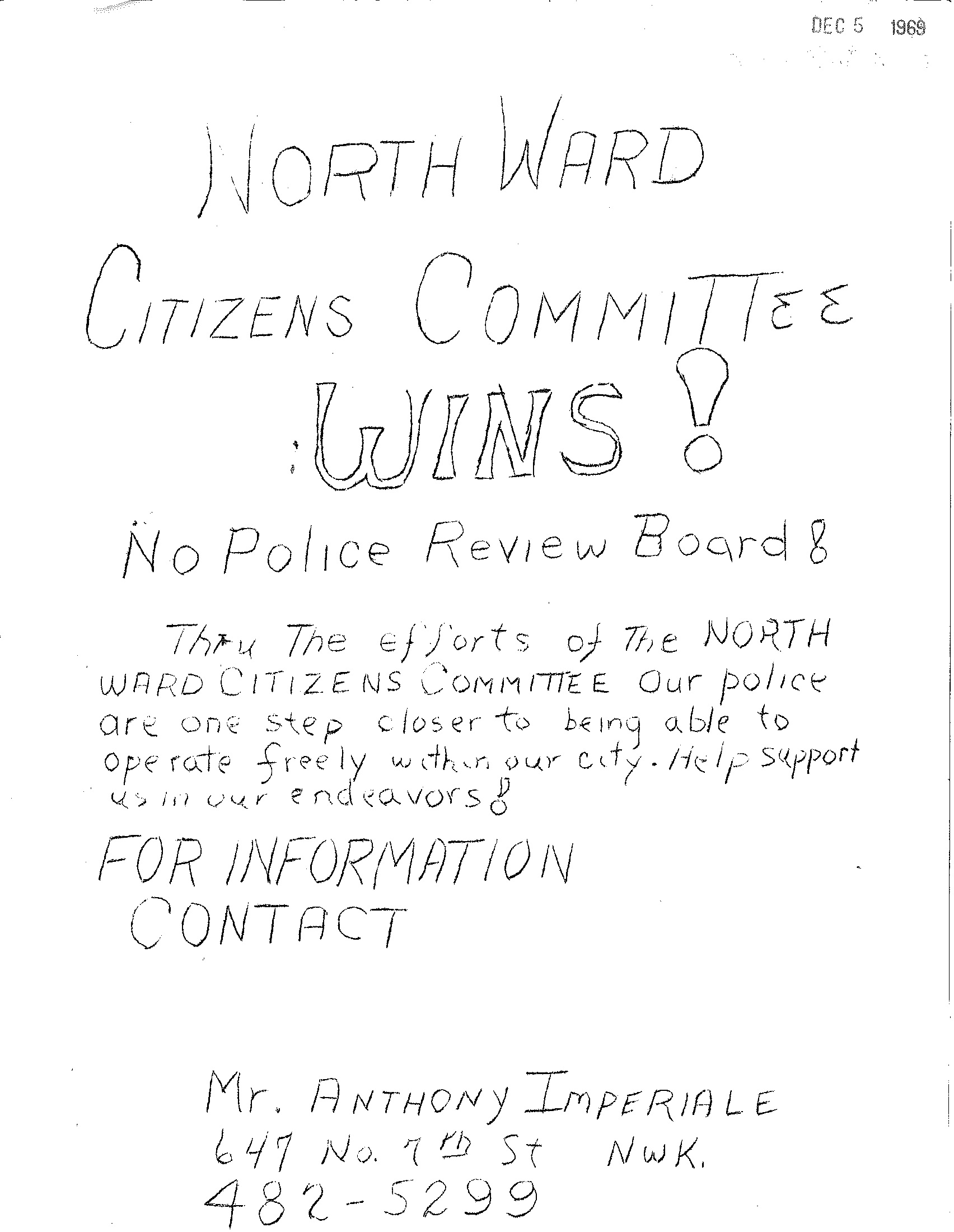 Flyer distributed by the North Ward Citizens Committee celebrating the rejection of a police review board by city officials. This struggle over a police review board raged throughout the 1960s and was one of the most racially polarizing issues in Newark. Anythony Imperiale and his North Ward Citizens Committee advocated for "law and order," by rallying for a police canine corps and against the review board. — Credit: New Jersey History Digital Archive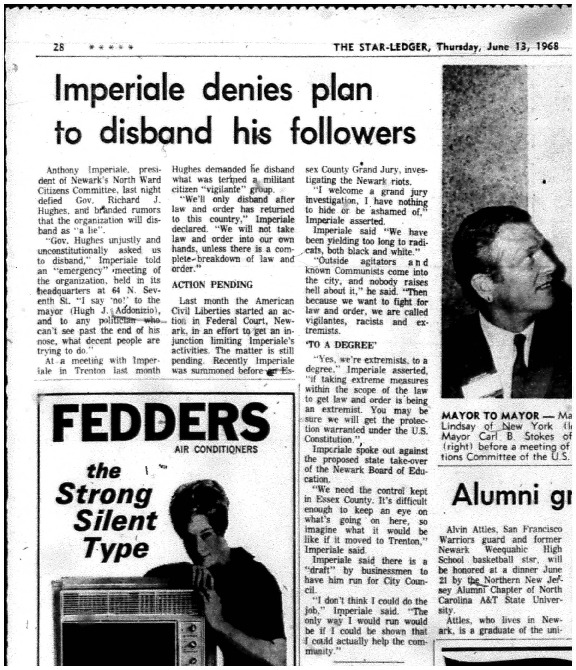 Article from The Star-Ledger covering the demands of Governor Hughes that North Ward vigilante Anthony Imperiale disband his followers. Imperiale and his North Ward Citizens Committee gained notoreity for the cache of weapons, including an armored car, that they claimed to have and for giving voice to white fears and resentment after the 1967 Newark rebellion. — Credit: The Star-Ledger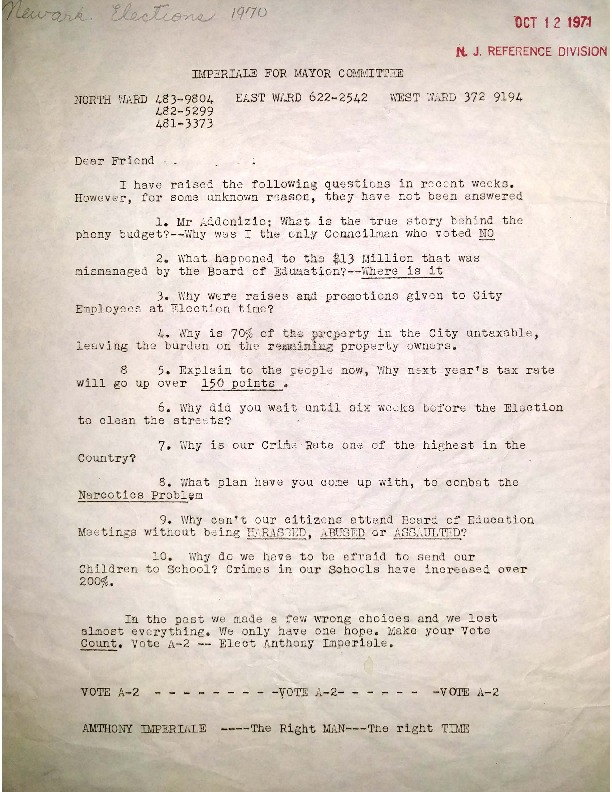 Letter from Anthony Imperiale's 1970 campaign for Mayor of Newark. Imperiale and his North Ward Citizens Committee gained notoreity for the cache of weapons, including an armored car, that they claimed to have and for giving voice to white fears and resentment after the 1967 Newark rebellion. Although he was elected Councilman in the 1968 election, Imperiale was soundly defeated in the Mayoral election. — Credit: Newark Public Library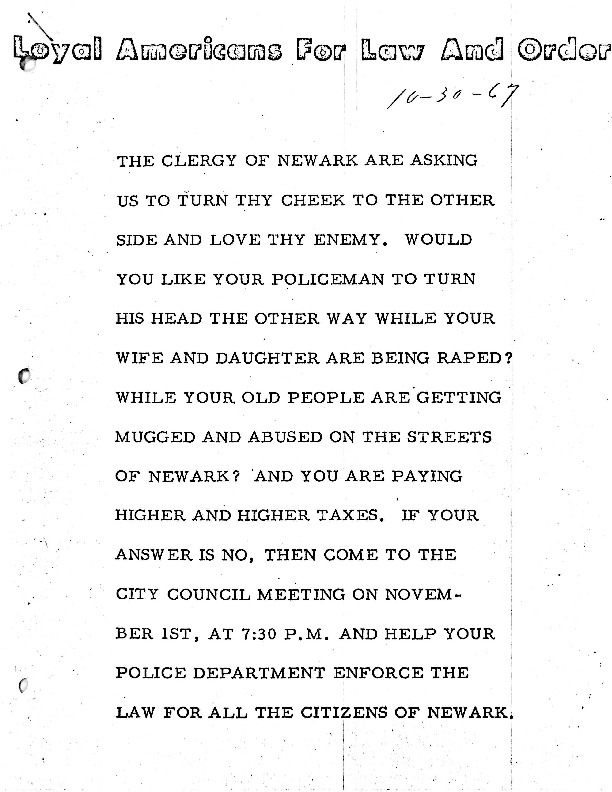 Flyer distributed by the organization Loyal Americans for Law and Order (LALO), calling for residents to attend a City Council meeting on November 1, 1967 "and help your police department enforce the law for all the citizens of Newark." LALO was formed immediately after the 1967 Newark rebellion in response to what the organization saw as "Godless…philosophies subverting the negro communities where is found waste, ignorance and lawlessness." — Credit: New Jersey State Archives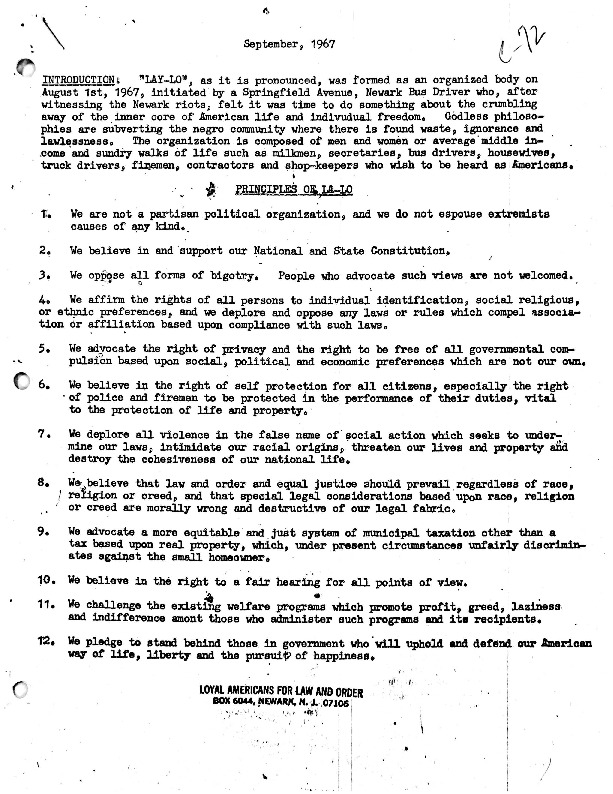 Leaflet distributed by the organization Loyal Americans for Law and Order (LALO), introducting the organization's mission and statement of principles. LALO was formed immediately after the 1967 Newark rebellion in response to what the organization saw as "Godless…philosophies subverting the negro communities where is found waste, ignorance and lawlessness." LALO and other white reactionary organizations utilized stereotypes of African-American criminality, laziness, and ignorance to promote a "law and order" response to growing Black political advancement in the city after the rebellion. — Credit: New Jersey State Archives