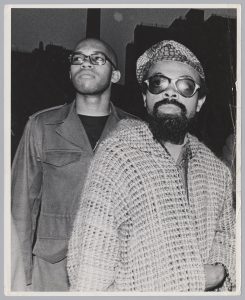 Amiri Baraka was born Everett Leroy Jones on October 7, 1934, in Newark, New Jersey. He attended Barringer High School and Rutgers University-Newark before attending Howard University in Washington, D.C. From Howard, he then served in the US Air Force, he said "only to get undesirably discharged from that visionary operation. Visionary? Because I was charged with being a communist, when actually I thought I was a Buddhist."
While in the Air Force, Jones read voraciously and began writing poetry. After his discharge, he made his way to Greenwich Village in New York City where he became a major poet, editor, and music critic. The assassination of Malcolm X in 1965 led Jones to abandon the downtown Beat Generation scene, leaving his wife and children in the Village to "join the Black Revolution" and set up the Black Arts Repertory Theater in Harlem. The arrival of LeRoi Jones in Harlem marked the emergence of the Black Arts Movement. According to Komozi Woodard, influenced by his visit to Cuba in 1960 and his connections with Fidel Castro, Robert F. Williams, Mohammed Babu, and Malcolm X, Jones became "the foremost proponent of the politics of black cultural nationalism in the 1960s."
Jones returned to Newark the last day of 1965, and within a few days, found a house on Stirling Street that would become Spirit House. "Spirit House was a Black Nationalist operation," he later wrote, and was a site for poetry readings, a theater, and a general gathering place to promote Black cultural and political consciousness. Jones saw the Spirit House as a continuation of the Black Arts Movement that he helped launch in Harlem and had spread to Detroit, Chicago, and Oakland. Spirit House's theater company, the Spirit House Movers, drew actors from Newark and across the nation to perform the works of Jones and other Black playwrights on site. That same year, Jones married Newark-native Sylvia Robinson, a dancer, actress, and poet in the city's Black Arts Movement scene. Symbolizing his transformation following the assassination of Malcom X, Jones changed his name to Ameer Barakat ("Blessed Prince" in Arabic). "Sylvia was named Amina ('faithful') after one of Muhammad's wives," he later wrote. Later, under the influence of cultural nationalist leader Maulana Ron Karenga, he "Africanized" his new name and became Amiri Baraka.
The organizing activities of Baraka and the Spirit House escalated in 1967 when he returned from an adjunct faculty appointment at San Francisco State University. Upon his return, Amiri and Amina Baraka, began to organize within the community for improved education for Newark's children and Amina founded the African Free School. It was not until the Newark rebellion in July 1967, however, that Baraka was able to develop as an effective city-wide political leader. During the rebellion, Baraka was arrested and badly beaten by Newark police, but emerged afterwards as a powerful force in Newark's political scene.
In the aftermath of the rebellion, Baraka and others set out to develop a Black United Front for political, economic, and cultural empowerment in Newark. The United Brothers was formed to organize politically for Black control of elected offices in the city, while Committee For Unified Newark (CFUN) grew out of Spirit House as a cultural nationalist organization. Baraka saw CFUN as an umbrella organization representing this Black United Front, and was a major player in the campaign to elect Newark's first Black Mayor, Ken Gibson, in 1970.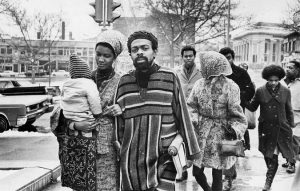 After Gibson's election, Baraka and CFUN's brand of cultural nationalism continued to grow. Baraka became the national chairman of the Congress of African People (CAP) in 1972, and the Newark chapter had "some 300 full-time members, with thousands of activist allies, filling the ranks of the CFUN Community Council, the African Liberation Support Committee, and the New Jersey delegation to the Gary convention in 1972." Baraka's influence as a cultural nationalist leader in the city began to wane, however, in 1974 when his quest to build Kawaida Towers, a low and middle-income housing project, in the North Ward was quashed by racially-charged opposition in the predominantly white neighborhood, led by Anthony Imperiale and Steve Adubato. Mayor Ken Gibson, who he supported in the 1970 election, did not support Baraka in this struggle.
Baraka subsequently renounced black nationalism and became a Marxist. He remained a vocal and influential resident of Newark and writer of international acclaim until his death on January 9, 2014, four months before his second son, Ras Baraka, was elected Mayor of Newark.
References:
Amiri Baraka, "Spirit House, The New Fortress"
Komozi Woodard, A Nation Within a Nation: Amiri Baraka (LeRoi Jones) and Black Power Politics
Amiri Baraka describes the inception and impacts of the United Brothers and CFUN. — Credit: Henry Hampton Collection, Washington University Libraries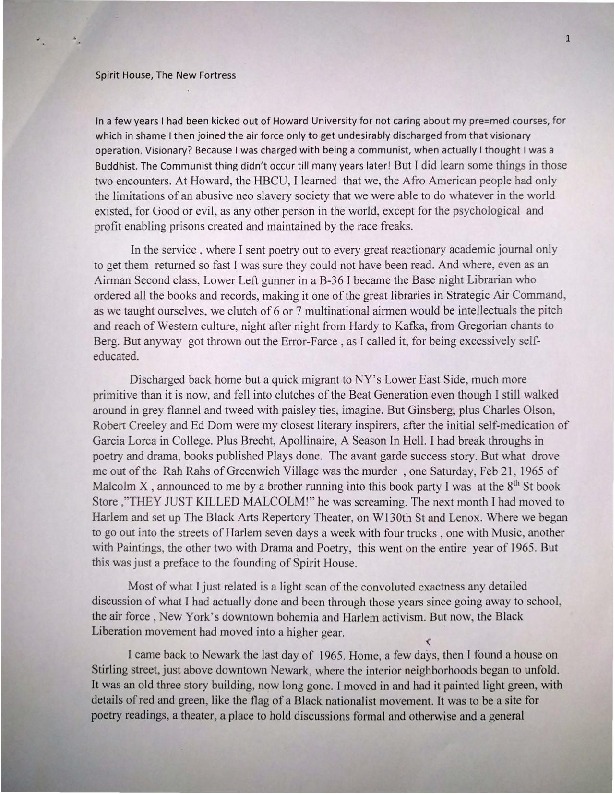 An unpublished essay written by Amiri Baraka in 2013, in which he reflects upon the formation of Spirit House. — Credit: Amina Baraka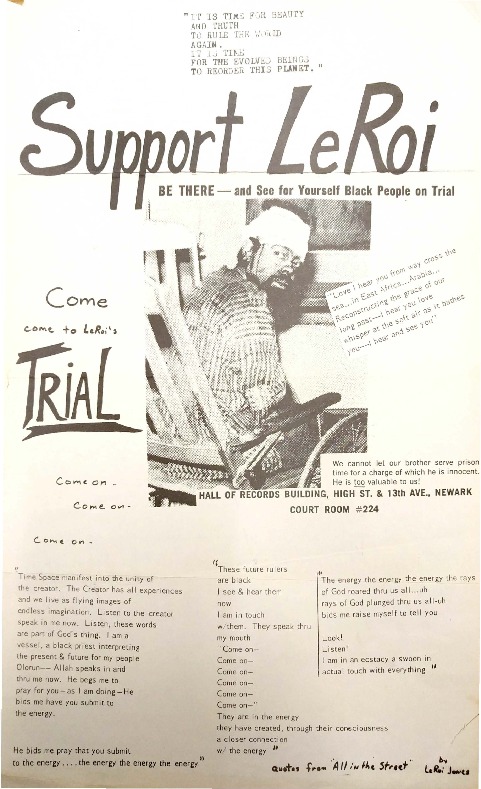 Flyer distributed to support LeRoi Jones (Amiri Baraka) during his trial for gun possession during the 1967 Newark Rebellion. — Credit: Junius Williams Collection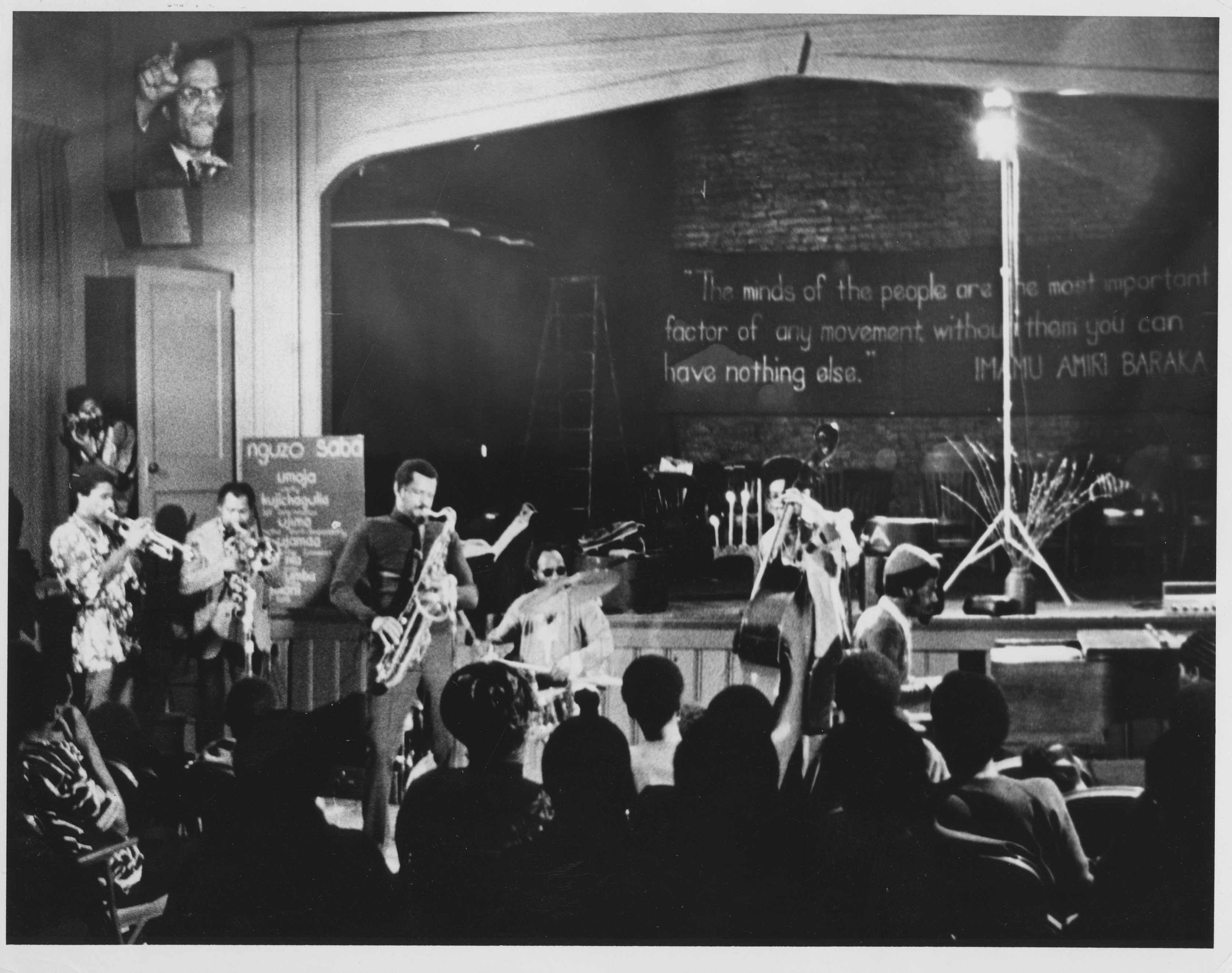 A jazz group performs during a Kwanzaa celebration inside CFUN Headquarters at 502 High Street — Credit: Newark Public Library
Oral history interview with Amiri Baraka, poet, playwright, and leading figure in the Black Arts Movement, conducted by Robert Curvin on May 11, 2009. –Credit: The Estate of Robert Curvin, Brown 70 Films
Interview with Newark poet, playwright, and activist Amiri Baraka conducted for America's War on Poverty, which was broadcast on PBS in 1995. Discussion centers particularly on his time in Newark, N.J. –Credit: Henry Hampton Collection, Washington University Libraries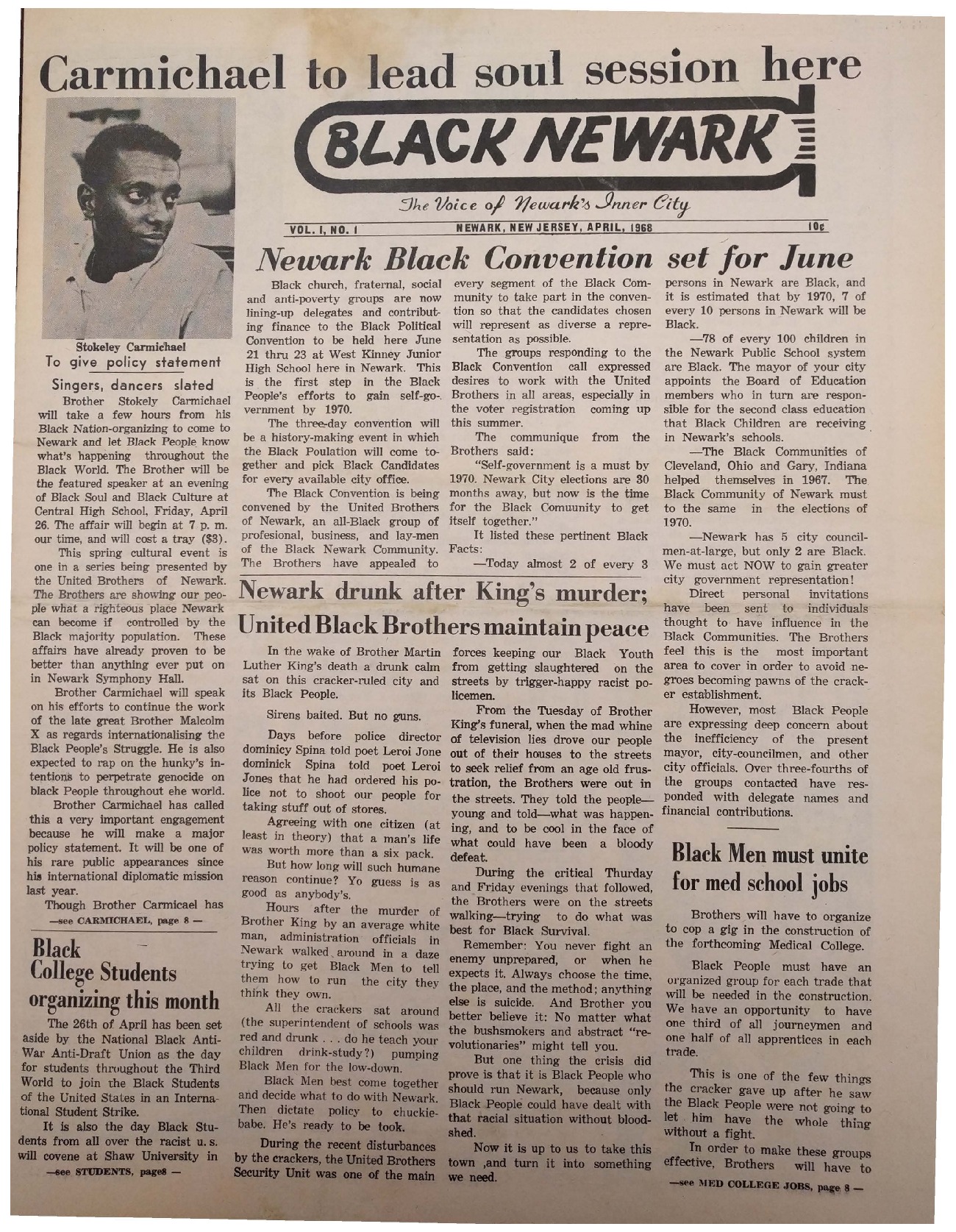 The first edition of Black NewArk, the local newspaper of the Committee For Unified Newark (CFUN), published in April 1968. Black NewArk was one of several media outlets developed by Amiri Baraka to promote Black cultural nationalism in Newark and the nation. Browse our archives to find a nearly full run of Baraka's newspapers, Black NewArk and Unity and Struggle. — Credit: NYU Tamiment Library