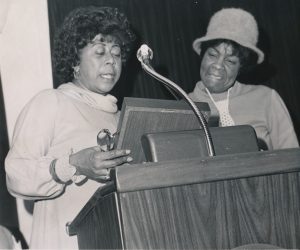 Bernice Bass was born June 15, 1926 in Belleville, New Jersey, but lived in Newark for most of her life. After attending Newark public schools, Bass was employed as director of the Administrative Division of the US Customs Service for the Newark Area, where she worked until her retirement in 1983. Though highly regarded in her profession, Bass was best known in Newark for her major presence in the city's music, radio, and political scenes, which she wove together seamlessly in her Sunday evening radio program on WNJR, News and Views.
News and Views was one of WNJR's most popular shows and was a mix of gospel music, community announcements, interviews, and political commentary. The show ran on the Black-oriented radio station WNJR every Sunday evening at 9 p.m. and brought a who's who of Black artists, musicians, and community, political, and civil rights leaders to the airwaves of Newark and beyond. Over the years, Bass had interviewed "just about everyone" in the forefront of the Civil Rights Movement, including Martin Luther King, Jr. and Malcolm X. In fact, Bass is credited as being the last person to interview Malcolm X before he was assassinated in New York City's Audubon Ballroom in February 1965.
Bass was also a highly influential figure in the gospel music scene, which she avidly promoted. "Although she never sang a note," Bass organized a singing group called the Youth Cavalcade that produced several top gospel artists and was a historian of the genre and cultural tradition. Bass was a friend of gospel legend Mahalia Jackson and served as the MC and host of Jackson's final show.
As a prominent figure in promoting cultural and political consciousness in Newark's Black communities, Bass was a go-to person for community members, leaders, and public officials to reach the public. Dr. Nathan Wright, organizer of the 1967 Newark Black Power Conference, wrote "Few voices calling for reflective judgment on the part of black people in Newark are raised more persistently than that of Mrs. Bernice Bass through her regular Sunday evening radio program."
Civil Rights activist and Model Cities Director Junius Williams recalled a particular instance that highlighted the political influence that Bernice Bass wielded in the city. When Mayor Gibson undermined his position as Director of the Community Development Administration in 1970 by bringing in former Addonizio aide Donald Malafronte as a consultant, "I picked up the phone and called Bernice Bass, a woman of great intelligence, political savvy, and caustic wit…Every Sunday night at 9 p.m., the political and churchgoing black folks in Newark tuned into Bernice's one-hour program called News and Views, to listen to her thrash the people she didn't like, or laugh and flirt with the ones she did. So I told her the situation, and had to endure a long lecture on what I should have told Ken Gibson." The following Sunday evening, Bass issued a verbal thrashing of the matter live on-air and the issue was resolved the next day: he did not have to hire Don Malafronte as a consultant to the Model Cities Program.
When Bernice Bass transitioned in 2000, the program from her Home Going Services read: "Ms. Bass was truly admired by her beloved friends and strangers as an outspoken and diligent community organizer, activist and radio personality. She was the conscience of Newark and her wit and biting criticism of local and national public officials knew no bounds. She challenged all of them to live up to their oaths of office and will truly be missed for that."
References:
Guy Sterling, The Famous, the Familiar and the Forgotten: 350 Notable Newarkers
Junius Williams, Unfinished Agenda: Urban Politics in the Era of Black Power
Nathan Wright Jr., Ready to Riot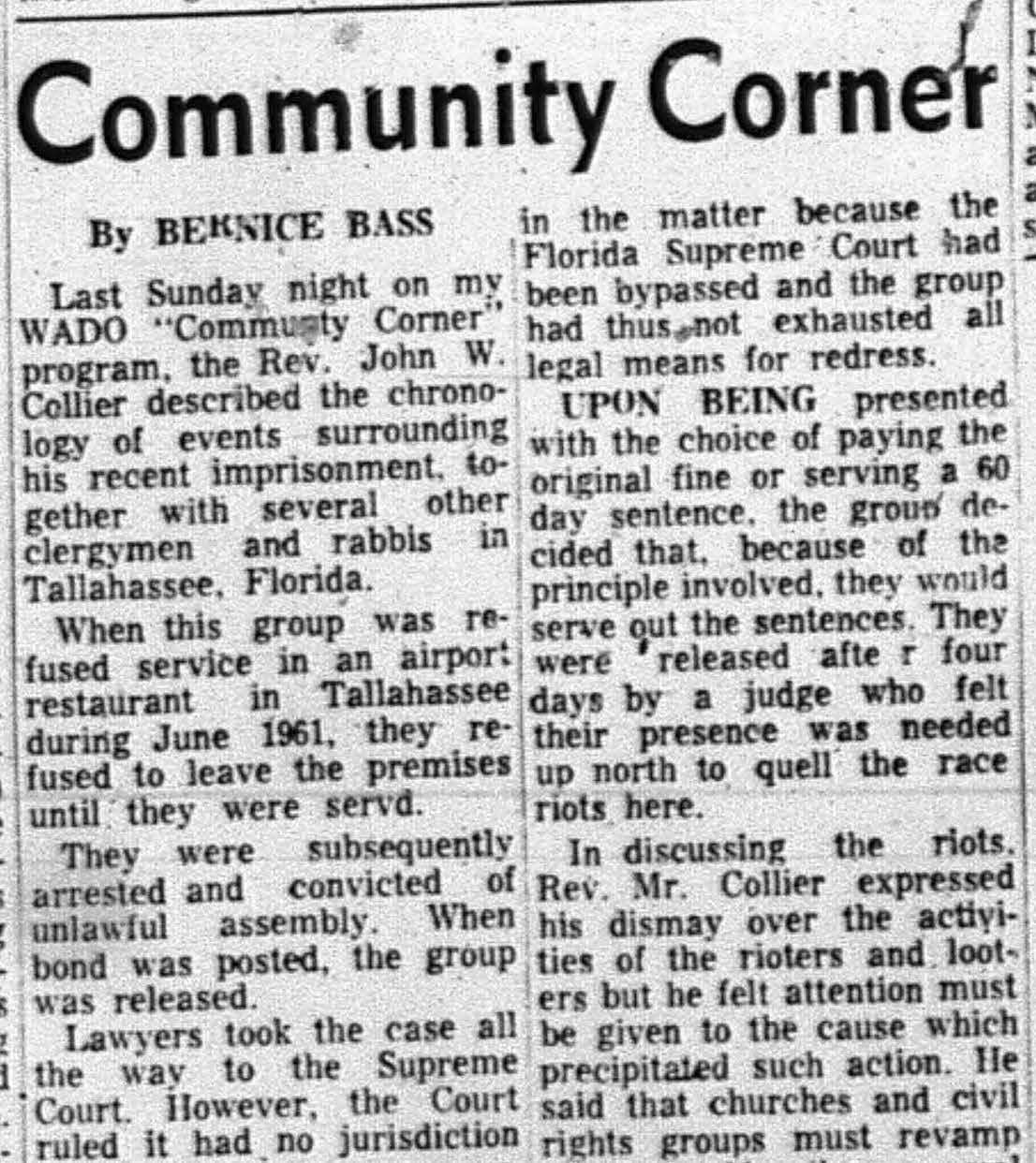 Article written by Bernice Bass for the New Jersey Afro-American newspaper on August 29, 1964, covering the topics of conversation during her radio program "Community Corner." –Credit: New Jersey Afro-American
Edna Thomas recalls a time Newark residents, including Bernice Bass, stood their ground against police brutality in the city. –Credit: Henry Hampton Collection, Washington University Libraries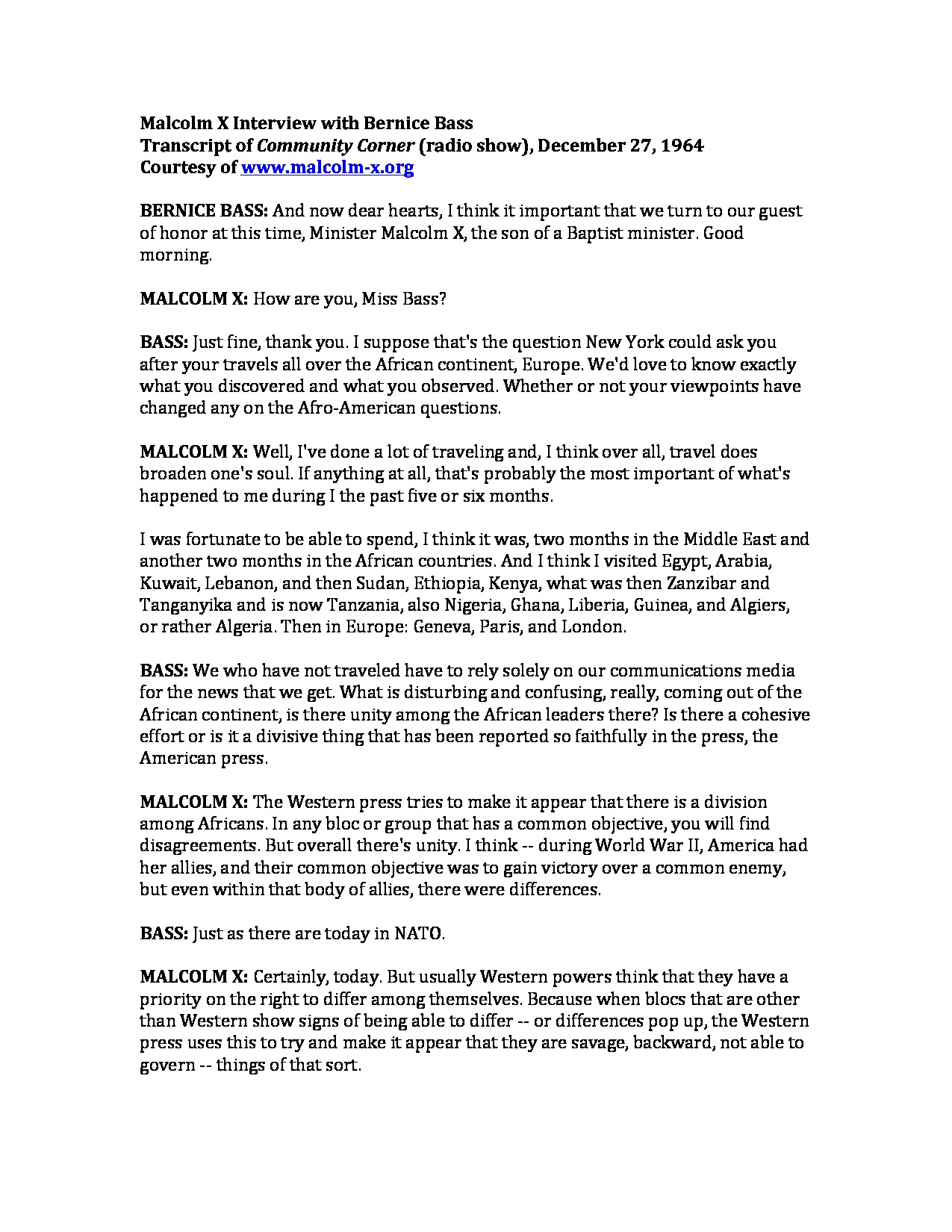 Transcript of an interview of Malcolm X by Newark radio host Bernice Bass, on her weekly show "Community Corner." The interview was one of the final radio appearances of Malcolm X before his assassination on February 21, 1965. –Credit: www.malcolm-x.org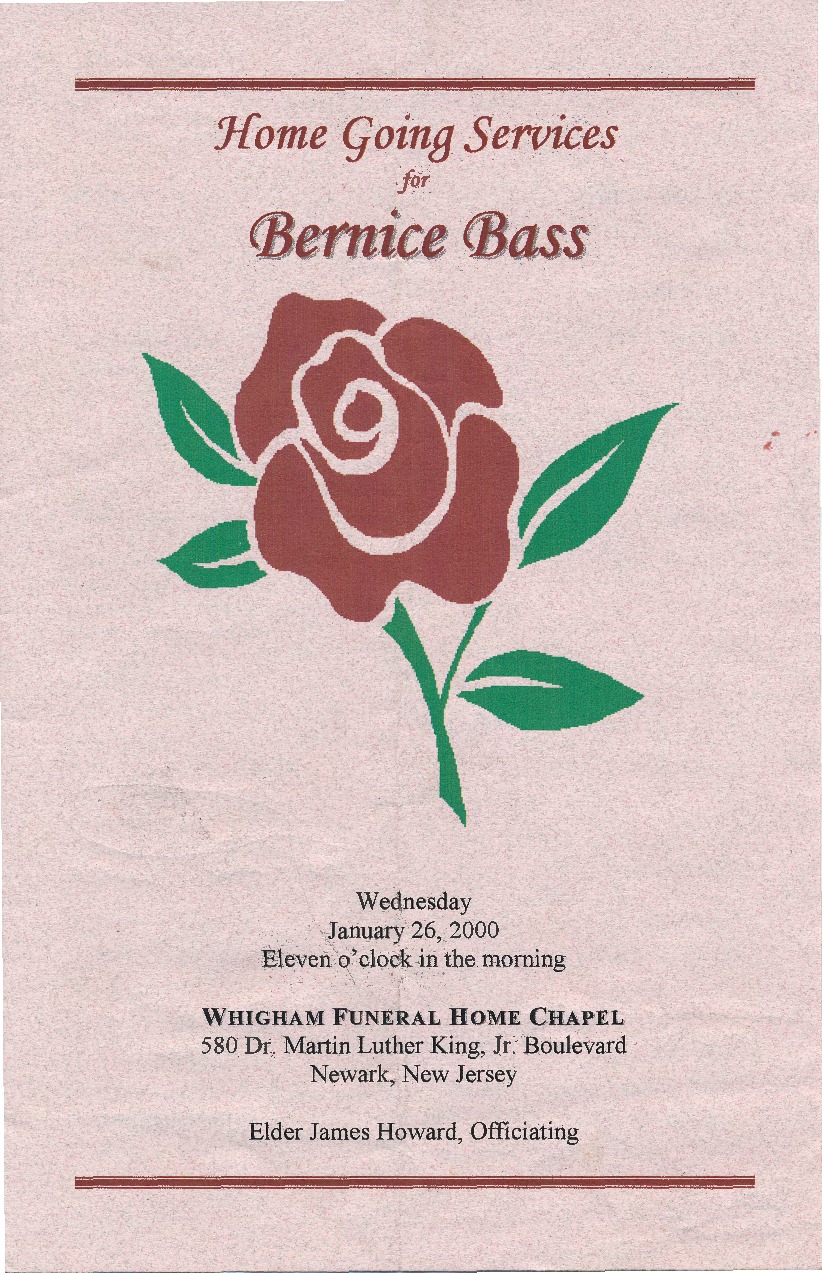 Program from the home going services for Bernice Bass, held January 26, 2000 at Whigham Funeral Home Chapel. –Credit: Junius Williams Collection